Brexit: NI tourism 'more vulnerable' in a no-deal scenario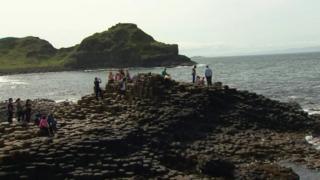 Tourism in Northern Ireland would be more vulnerable than other parts of the UK in the event of a no-deal Brexit, the boss of Tourism Ireland has said.
Niall Gibbons, chief executive of the organisation, was speaking to the BBC's Good Morning Ulster programme.
Figures show that more than 2.2 million people visited Northern Ireland in 2018 and tourism revenue rose 4% to £589m.
But Mr Gibbons said discretionary spend like tourism was likely to be first hit if Brexit affects consumer confidence.
He said an EU withdrawal deal is needed to provide certainty for the tourism industry.
Tourism Ireland is aiming to increase visitor spend by 8% and Game of Thrones' final season and The Open at Royal Portrush will form part of its 2019 marketing campaign.
Brexit is a factor it has considered and Tourism Ireland has established a taskforce to monitor developments, along with tourism industry chiefs from the UK and Ireland.
"It is important from our perspective that there's certainty and some sort of a deal in place, but we just have to adapt our plans as time moves on," Mr Gibbons said.
"But certainly, if British people are to stay at home, it's more likely, according to the research we have done, that Scotland, the Lake District and Cornwall are the places more likely to benefit."
Mr Gibbons was asked if leaving the EU without a deal would affect tourism in Northern Ireland.
"It's very hard to be specific, but certainly if people are feeling less certain then discretionary spend like tourism is generally the first part to get hit, so it'll place Northern Ireland in a more vulnerable situation than other parts of the UK," he said.
Tourism in Northern Ireland has experienced seven years of consecutive growth and Tourism Ireland plans to use the growth in hotel room numbers in Belfast and Londonderry as an opportunity to promote city breaks.
It will also re-develop its websites and plans to market Northern Ireland in the US and Europe and expand operations in China.