Titanic Quarter offices on market with £34m price tag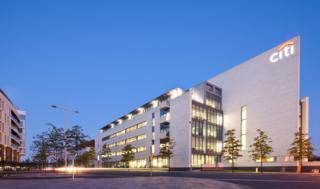 One of Belfast's largest grade A office developments has been put up for sale, with a £34m asking price.
The Gateway Offices, on the city's waterfront, were built in 2009 and are being sold by Titanic Quarter.
With 133,000 sq ft of space, they are fully let to US company Citibank.
It is the second attempt to sell the property in two years - it was withdrawn from the market in 2016 when the price tag was £29m.
Selling agents CBRE said the price change represents the "strength" of the market.
They expect "a competitive bidding process" and believe the property should be attractive to institutional investors such as pension funds.
Headline rents in Belfast are expected to achieve £22 per-square-foot by the end of this year.