Peter Robinson remark 'not attack on DUP's Arlene Foster'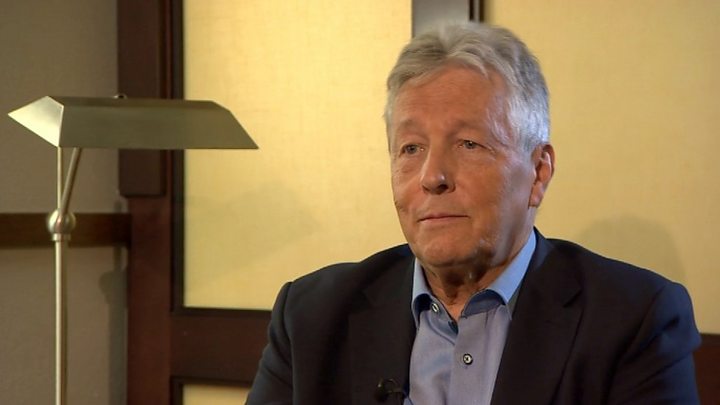 Former first minister Peter Robinson has said recent public remarks he made were not an attack on Arlene Foster.
The ex-leader of the Democratic Unionist Party (DUP) said in an interview that "you need to be careful not to allow the most vociferous voices in your party lead you".
He was addressing an audience at the Methodist Centre in Belfast.
Speaking to the BBC's The View, Mr Robinson said his remarks were not aimed at his successor Mrs Foster.
He said he was not criticising her or any other individuals, adding that "it is an obsession of some people in the press who want to get at Arlene".
His criticism was aimed at those who "talk the loudest" and his remarks were about people in "every party".
Mr Robinson's original comments were first reported by the website Eamonnmallie.com.
He was speaking to the BBC at New Haven in Connecticut in the United States, where he is attending a conference to mark the 20th anniversary of the Good Friday peace agreement.
On Brexit, Mr Robinson said his party was right to reject Prime Minister Theresa May's EU withdrawal deal.
He said he was not convinced it was the "only deal" and he felt it would not be supported by MPs in the House of Commons next month.
'One of the best'
He also played down comments by the DUP's Sammy Wilson, who described business leaders who supported the Brexit deal as "government puppets".
Mr Robinson said his reaction when he heard the remarks was: "There goes Sammy."
He described the East Antrim MP as "probably one of the best commodities any political party can have".
He said Northern Ireland business and farming groups who supported the withdrawal deal were "not puppets" but were representing their members.
But the row about Mr Wilson's comments has not damaged the DUP brand, said Mr Robinson.
He said business and farming groups took a narrow approach to the Brexit deal and said the DUP was taking a long-term approach.
'Back to Stormont'
He described the DUP's confidence and supply arrangement with the Conservatives at Westminster as going through a "very bumpy patch".
He also said that he always thought the deal, which agreed last year, "does have a shelf life".
History showed that Conservatives do not always have the relationship that unionists want, he added.
On the restoration of devolved government in Northern Ireland, he said he felt that both the DUP and Sinn Féin want to "get back to Stormont".
Mr Robinson served as first minister from 2010 until 2016 before retiring from active politics - he now has business interests.
The Good Friday Agreement event in New Haven is jointly organised by Yale University and Queen's University.
It features key figures in the peace process, including former Senator George Mitchell, former taoiseach Bertie Ahern, General John de Chastelain, Jonathan Powell and Monica McWilliams.
MLAs from the main Northern Ireland parties have travelled to Yale to take part in discussions about the peace process and how the region's politics can move forward.