Start Stormont talks in new year, says Bertie Ahern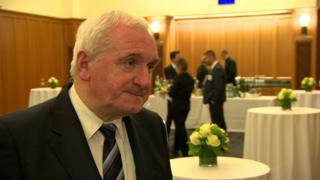 Stormont's political parties should start talks about restoring devolution in Northern Ireland in the new year, Bertie Ahern has said.
The former taoiseach (Irish prime minister) was speaking at an event in the United States to mark 20 years since the Good Friday peace agreement.
He signed the agreement along with the UK prime minister Tony Blair in 1998.
MLAs from the main Stormont parties are due to meet former US secretary of state John Kerry on Saturday.
Mr Kerry served during Barack Obama's time as US president and is a former presidential candidate.
He will speak to the parties at the Good Friday Agreement event in New Haven in Connecticut.
MLAs from the main parties have travelled to Yale University to take part in discussions about the peace process and how the region's politics can move forward.
'Open the window'
Mr Ahern said he hoped that a new round of formal talks between the parties could start in January.
"I think on the other side of Christmas it would be wise to start that process again," he told BBC News NI.
"Hopefully somewhere early in 2019 that window of making real progress will open up again.
"The idea of the parties getting together and talking things through, even if it is a little bit down the road, should be happening."
Speaking before the event, Peter Robinson said he felt that both the DUP and Sinn Féin want to "get back to Stormont".
The former DUP leader served as first minister from 2010 until 2016 before retiring from active politics.
The Good Friday Agreement event is jointly organised by Yale University and Queen's University.
It features key figures in the peace process, including Mr Ahern, former Senator George Mitchell, General John de Chastelain, Jonathan Powell and Monica McWilliams.