Brexit must not reignite Troubles, says John Kerry
By Stephen Walker
BBC News NI Political Correspondent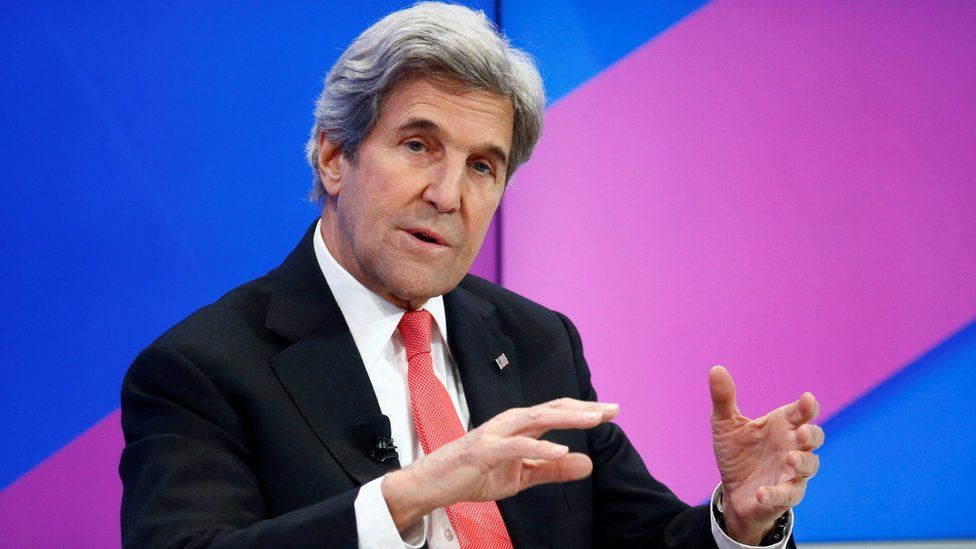 Former US Secretary of State John Kerry has warned it is "imperative" that Brexit is solved "in a way that does not reignite" the Troubles.
He also said it was crucial that any new arrangements after Brexit did not "reheat passions" in Northern Ireland.
The conference at Yale University was organised to mark its 20th anniversary.
Politicians from the five main Stormont parties met Mr Kerry at the university in New Haven in Connecticut and discussed the political situation in Northern Ireland.
Speaking to the BBC, Mr Kerry said he had concerns that a final Brexit deal would have a "negative impact on the progress made in the last 20 years" in Northern Ireland.
The veteran politician said the issue of Northern Ireland was a "major hurdle to get over" in the Brexit process.
He would not be drawn on whether MPs should back the EU withdrawal deal in a vote at Westminster next week, saying that was a matter for the UK.
After meeting the politicians, he said the discussions had been a "positive, constructive exercise".
He insisted that it was not a negotiation but a "candid discussion" and a conversation away from the spotlight.
He was joined by Senator George Mitchell, who helped to broker the Good Friday Agreement in 1998.
Mr Kerry dismissed any suggestion that he was being proposed as a chairperson for any new political talks at Stormont.
That was "not on the radar screen right now", he added.
Pressed on whether he might take up such a position, he said he was "not even thinking about that".
He had "zero thought" about it and has not been approached about playing any part in the Northern Ireland political process.
But he said that US President Donald Trump's administration should "stop and think" about the possibility of sending an envoy to Northern Ireland.
The US had a long track record of helping the Northern Ireland political process, he said.