George Gilmore murder: Son denies father was UDA commander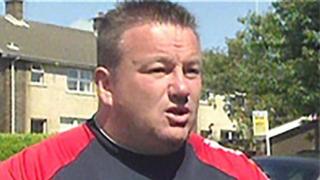 The son of a murdered high-profile loyalist has denied that his father was a commander in a paramilitary group at the time of his death.
George Gilmore died after shots were fired into his car in Carrickfergus in County Antrim in March 2017, causing him a "catastrophic brain injury".
His son George Gilmore Jr was one of the first on the scene and called 999.
Giving evidence at a trial over his father's murder, he rejected a claim that the killing was part of a feud.
"There was no feud - it was one-sided," he said.
"It was the South East Antrim UDA targeting my family and friends."
He said his father was not a leading loyalist in the Ulster Defence Association (UDA) when the attack happened.
'Making hand movements'
Mr Gilmore died the day after being shot on 13 March 2017.
Three men are facing a non-jury Diplock trial at Belfast Crown Court accused of his murder and the attempted murder of his two passengers.
They are David McMaw, 30, from Starbog Road in Larne, County Antrim; his brother Darren McMaw, 33, from Kilgreel Road in Carrickfergus; and 36-year-old Brian McClean, from Valetta Park in Newtownards, County Down.
They deny the charges against them.
The prosecution claims that David McMaw was the gunman, while Brian McClean acted as a lookout.
It also claims that Darren McMaw followed Mr Gilmore in his van in a "scouting exercise" before the fatal gun attack.
In court on Monday, Mr Gilmore Jr said that after dropping his friend off he entered the Woodburn estate in Carrickfergus, where he saw David McMaw and Brian McClean.
"They were shouting towards the cars and making hand movements," he said.
"I think it was meant as goading - they wanted us in the street to start a confrontation."
'Slam the brakes'
He said that Brian McClean ran towards an alleyway before running on to the road in front of his car.
"I had to slam the brakes on so I didn't run him over.
"When I put the brakes on, I could see [David McMaw] in the alleyway - he had a mask on his head but it wasn't pulled down.
"He was waiting in the alley - I don't know what he was waiting for but he was waiting."
Mr Gilmore Jr said he was expecting to see his father's car go up the street where he heard about seven shots being fired.
His father's car rolled across the road and crashed into a wall and he ran towards it, he said.
Describing the scene, he said: "I seen my dad had been shot - there was blood."
'No UDA involvement'
He was cross-examined by a barrister representing David McMaw, who pointed out that Mr Gilmore was described as a "leading loyalist" after his killing.
Asked if he agreed with that description, Mr Gilmore Jr replied: "No, definitely not."
Asked about whether Mr Gilmore was a commander in the South East Antrim UDA, his son said he had not had anything to do with the organisation "for about 10 to 15 years".
When the barrister suggested to Mr Gilmore Jr that his father was the leader of a breakaway group, the witness rejected that.
The court was shown mobile phone footage of a group of about 100 men, some masked, standing outside the Gilmore home in July 2016.
Mr Gilmore Jr said they had gathered at the house "over two wee girls fighting".
He is due to give more evidence on Tuesday.