Ulster University to review stance on trade unionist's election bid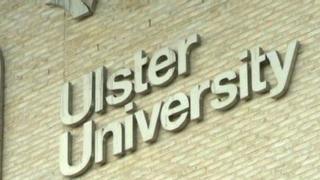 Ulster University (UU) is to review a decision not to let a leading trade union member stand for election to its governing body.
Goretti Horgan, a lecturer at UU and a member of the University and College Union (UCU), wanted to stand for election to the university's council.
In a letter, UU said she would not be allowed to go forward for election.
This was due to a "conflict of interest" caused by her union membership.
However, in a statement to BBC News NI, a spokesperson for the university said it was: "reviewing this matter".
There are currently two vacancies for staff members on the 15-member university council, which oversees all of UU's operations.
Ms Horgan had applied to fill one of those positions.
'Staggered and upset'
She received a letter from UU on 3 December telling her that she was not being allowed to stand for election as she was a senior member of the UCU, which represents many university staff.
"It is also likely that an office-holder in one of the trade unions recognised by the university will have a conflict of interest that would unduly impact on their responsibility to fulfil the role of council member," it read.
Ms Horgan was told that, as a UCU member who had previously negotiated with the university on the union's behalf, she had "a conflict of interest that would unduly impact on your ability to fulfil the role of council member and therefore your application will not go forward for election".
Ms Horgan said she was "staggered and upset" by the university's decision.
Both she and the UCU union subsequently made a complaint and threatened the university with legal action.
In a statement to BBC News NI, a university spokesperson said that expressions of interest from staff intending to stand for election to council had been reviewed by a nominations committee.
"If deemed to meet the criteria and to have no significant conflict of interest, the applicants will then progress to a staff election for the position," they said.
"We are currently reviewing this matter following receipt of a complaint from an employee and it would not be appropriate to comment further on individual applicants until this is completed."
BBC News NI understands that UCU members do sit on council and senate at Queen's University Belfast.