Ballymurphy inquest: Edward Doherty 'possibly in throwing stance'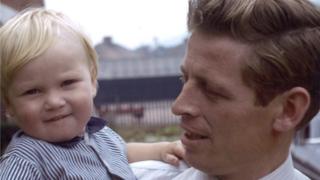 It is possible that one of the men shot in Ballymurphy was in an "exaggerated throwing stance" when he was struck, an inquest has heard.
The inquest is examining 10 people's deaths at Ballymurphy in August 1971.
Edward Doherty, 31, was shot dead near a barricade on Whiterock Road in west Belfast.
A former soldier known at witness M3, or sometimes as Soldier B, previously told the inquest that he fired a shot from a Sterling submachine gun.
He said it was at a petrol bomber facing him on a barricade.
The Royal Engineer sapper was in a military tractor and had been trying to clear the barricade.
Mr Doherty was one of those who were killed in August 1971 during the Army's Operation Demetrius.
It happened during the introduction of internment - a policy of detention without trial introduced by the government in 1971 during the Northern Ireland Troubles.
Over the years, other witnesses have testified that Mr Doherty was some distance away, with his back straight on to the soldier's position.
However, the pathologists' report does not consider that stance to be supported by the evidence.
Instead, two pathologists have suggested that Mr Doherty could have been shot while standing at an angle of about 45 degrees to the gun and bent over at the waist.
Both Dr Benjamin Swift, for the coroner, and Dr Nathaniel Cary, for the next of kin, have reviewed the evidence from the original autopsy in 1971.
It was carried out by Dr Thomas Marshall who is due to give evidence on Thursday.
'Other scenarios possible'
Dr Swift and Dr Carey concluded that Mr Doherty was shot by a 9mm (0.35in) low-velocity bullet that entered his back on the left and exited his chest on the right, a little higher up.
They concluded that could be consistent with him bending forward and twisting to the right.
One of several scenarios would be that he was facing slightly away from the gun, "in a side-on, exaggerated throwing stance".
Another would be that he had bent forward and turned to run away from the area.
Some witnesses have said that Mr Doherty had his back to the soldier but was turning to take cover and move away when he was shot.
Several other scenarios were also possible, the doctors concluded in their report.
The pathologists said his bullet wound would be consistent with a round fired from a Sterling submachine gun, such as witness M3 said he used.
The court heard that the pathology evidence does not indicate that the bullet was fired from very close or from a considerable distance away.
Nor does it indicate that Mr Doherty was hit by a ricochet.
The doctors believed death would have occurred within a few minutes without proper medical treatment.
As a result, the pathologist acting for the coroner concluded that witness M3's account was the most likely of the two they examined.
However, the pathologist for the next of kin disagreed.
As well as the soldier's testimony, the inquest has heard evidence in recent days from several witnesses, all of whom stated that Edward Doherty was not throwing a petrol bomb at the time he was shot.
Mr Doherty's family has consistently said he was a former Territorial Army soldier who was passing through the area on his way home to another district.
They said that he had not been involved in throwing petrol bombs at British soldiers.