DUP's Ian Paisley compares Brexit vote to 'hanging'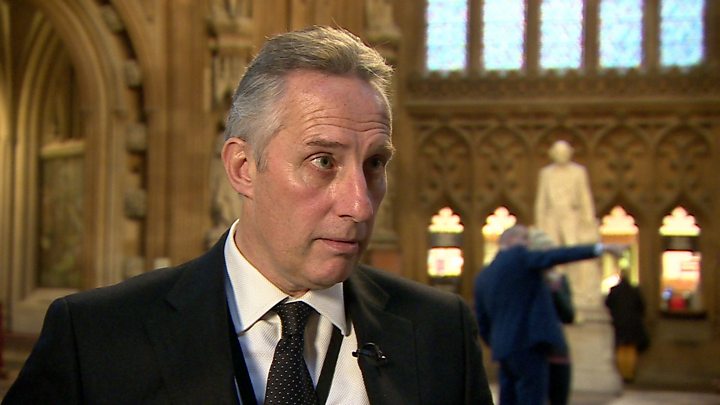 Democratic Unionist Party (DUP) MP Ian Paisley has compared the crucial vote on Brexit due next week to a "hanging".
He was responding to the prime minister's assertion that there can be no deal without the controversial Northern Ireland backstop.
Theresa May said MPs could be given the power to decide whether the UK goes into such an arrangement.
On Thursday, a new attempt to appease concern over the backstop was met with derision by DUP leader Arlene Foster.
A group of Tory backbenchers tabled an amendment - which is understood to have the government's support - that would give Parliament a say over when the backstop is activated.
It would also give the UK's devolved administrations - particularly Stormont - more say in the process.
The backstop is a position of last resort to maintain an open border on the island of Ireland in the event that the UK leaves the EU without securing an all-encompassing deal.
Mrs Foster rejected what she described as "legislative tinkering" and said Mrs May's withdrawal deal would "remain fundamentally flawed".
'Focuses the mind'
A senior Conservative Brexiteer said the amendment was "transparent and risible".
The MP Steve Baker added: "Giving Parliament the choice between the devil and the deep blue sea is desperate and will persuade very few."
The prime minister has been trying to convince MPs to back her EU withdrawal plan ahead of the vote on it in the House of Commons next Tuesday.
On Thursday, Mr Paisley said she was facing a hanging.
The North Antrim politician's remarks were based on a quote from the 18th Century writer Samuel Johnson.
"Nothing focuses the mind like a hanging," he said.
"Next week, the prime minister will be staring into the abyss in terms of what happens next because she can't unite her own party around her agreement."
"Whilst our 10 DUP votes will, of course, matter her own party is going to stop this withdrawal agreement from happening."
In a visit to Belfast City Hall on Thursday, Northern Ireland Secretary Karen Bradley was asked about Mr Paisley's remark.
She said that while she would not use such language it was not for her to comment on.
'Give comfort'
She later told the BBC's The View programme that she would be supporting Mrs May's Brexit plan.
"I genuinely believe we have is a deal that's good for the whole UK," she said.
"We are taking time to meet colleagues and listen to their concerns and we are trying to address issues and give people the comfort they need."
It is not the first time the strength of the words used in the Brexit debate have come into focus.
Last month, the prime minister called on politicians to be "careful about language" after one MP was reported as saying she should bring her own noose to a meeting.
Mrs May insists her Brexit deal will get support.
There have been reports that she was being urged to postpone the vote, which she is widely expected to lose.