Brexit: May cancels Dublin visit over confidence vote
By Jayne McCormack
BBC News NI Political Reporter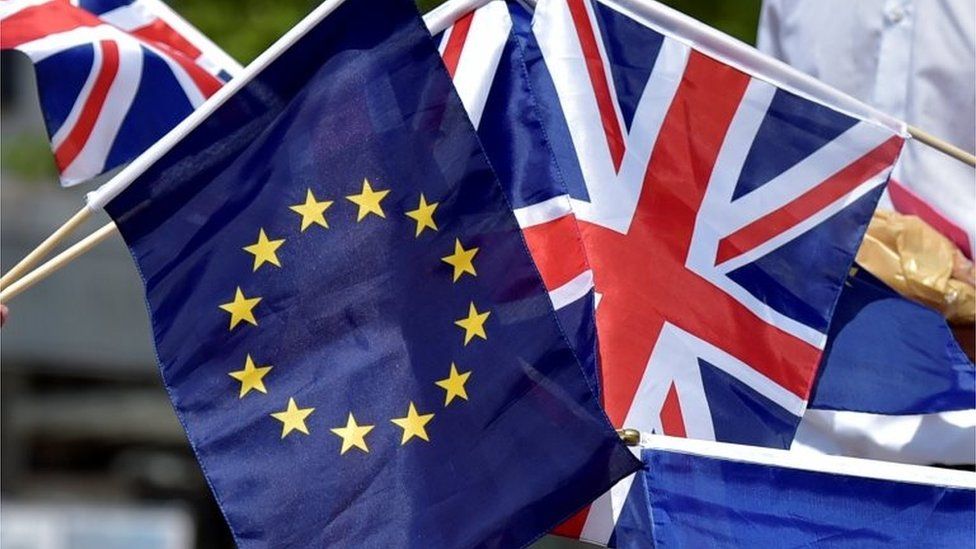 Theresa May had been planning to discuss the Brexit negotiations with the taoiseach (Irish prime minister) on Wednesday night.
She has said she will now remain in London, but that progress on the Irish border backstop had been made in recent days.
Mrs May has been holding talks with other EU leaders who say the deal cannot be renegotiated.
She was due to meet Taoiseach Leo Varadkar in Dublin at 18:30 local time but, speaking outside Downing Street, said she would stay in London to fight the leadership challenge.
Our Confidence and Supply Agreement is with the Conservative & Unionist Party. The current Brexit policy is totally unacceptable to us and the @HouseofCommons. It is entirely a matter for Conservative MPs to decide who their leader is... but the policy must change!

— Sammy Wilson MP (@eastantrimmp) December 12, 2018
DUP leader Arlene Foster is still due to meet Mrs May on Wednesday afternoon at 13:30 GMT, to discuss her party's concerns around the government's Brexit plan.
But Tory MP Simon Hoare said his party would not be "blackmailed" by the DUP or other parties on the leadership issue, despite the imminent challenge against Mrs May.
Mr Hoare, who is supporting Mrs May, told BBC News: "With the greatest of respect to them, I think it's a mistake to assume the DUP speaks for the whole of Northern Ireland.
"It's an important position but it's not a blackmail chip I'm afraid, and the Tory party is not going to be held to ransom, and we're not going to have who our leader is, or other policies dictated by other parties in the House of Commons."
The NI Secretary Karen Bradley has also said she will be backing the prime minister in the vote of no confidence.
What is the latest on the backstop?
The backstop is the insurance policy arrangement is aimed at avoiding the return of a hard border - physical checkpoints or infrastructure - along the 310-mile (500-km) border between Northern Ireland and the Republic of Ireland after Brexit.
The most difficult issue for the border is the movement of food and agriculture products, which are subject to very strict EU rules.
If the backstop took effect, it would see only Northern Ireland remain aligned with the EU single market in some areas, meaning new regulatory barriers between GB and NI.
The UK would also not be able to leave the backstop without EU agreement.
It has sparked a political backlash from the DUP, Brexiteer Tories, Labour and other opposition parties, forcing Mrs May to return to Brussels in a last-ditch bid to obtain further guarantees on it.
How have the prime minister's critics responded?
On Wednesday, DUP leader Arlene Foster attended the launch of the latest plan, formed by critics of Mrs May's deal including ex-Brexit Secretary, David Davis.
BBC News NI's Economics and Business Editor John Campbell said it seemed unlikely the EU would agree to the idea, outside of an arrangement similar to what what the EU agreed with Switzerland, over veterinary checks.
But Mrs Foster said the proposal was a "huge step forward".
She would be speaking to Mrs May about it when she meets her on Wednesday afternoon, she added.
"Surely we should take this document to Brussels and say: 'Here is an alternative way.'"
What is the Irish government's view?
The Irish government has said there can be no deal without the backstop already agreed by the UK and EU.
The Irish government also needs to up its contingency planning for a no-deal scenario in terms of recruitment of customs, veterinary and health officers at Irish ports, he added.
European Commission President Jean-Claude Juncker said there was "no room whatsoever" for renegotiation of the deal.
He told the European Parliament the EU could give further clarification but that the withdrawal agreement, in all its parts including the backstop, would not be reopened.
"Ireland will never be left alone," he added.
The prime minister is due to address her MPs at 17:00 GMT on Wednesday evening, ahead of the no-confidence vote.
It is not yet known how quickly the result of the secret ballot will be announced, but Mrs May needs to get a majority in her favour to win it.
If that happens she cannot be challenged for at least another year.
If Mrs May does not win the vote there would then be a Conservative leadership contest in which she could not stand.
A summit of EU leaders is still due to take place this Thursday.
Downing Street has said a Commons vote will be held on the deal at some stage before 21 January.