School PTAs: Charity registration backlog hits groups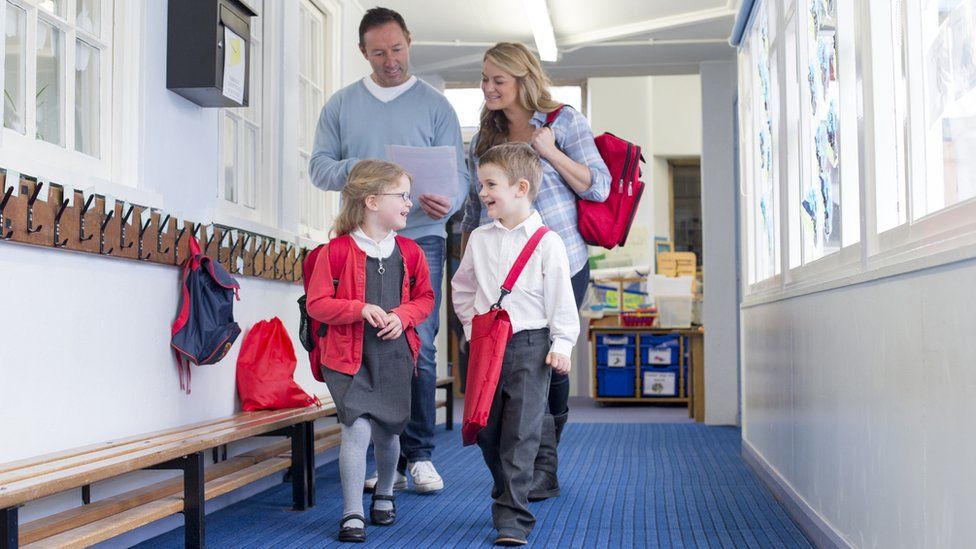 Almost 100 Parent Teacher Associations in Northern Ireland are unable to apply for certain funding as they wait to be registered as charities.
Some PTAs have been waiting years to be registered.
PTAs must register under the Charities Act (NI) 2008 and companies and councils often require a charity number to donate or match fundraising.
Education charity Parentkind said the backlog in registrations was having a detrimental effect on PTAs.
"This backlog in registration is having a real and detrimental effect on the ability of PTAs to access external funding and some match funding as well as payroll giving, Gift Aid, corporate sponsorship and more," said Parentkind's Jayne Thomson.
"In these times of financial constraint, we should be doing everything possible to enable PTAs to operate at their best and consider all opportunities available to them."
The PTA at St Columbanus' College in Bangor has been waiting three years to receive charitable status.
"You can have your little school dance or whatever and raise a few hundred pounds, but if we go to any company and try and raise money to get sponsorship or even ask them to buy a piece of software, the first question is: 'Where is our charity number?'" said the group's chairman, Macartan Mulligan.
"It's not tax efficient for them to spend £1,000 on us if we're not registered as a charity, because they can write if off as a charitable donation."
'Our application for funding was turned down'
Dawn Young, PTA chairwoman of Ligoniel Primary School in Belfast, applied for charitable status in 2016 and is still waiting.
"This was then followed up in September 2017 by our principal, however we were told that there was a very long list of charities waiting for charitable status," said Mrs Young.
"We are yet to hear any further feedback."
In the 2017-18 school year, the PTA raised almost £4,000, which was used to purchase a data projector, caging and a screen for its school hall.
The PTA is now raising money for iPads and docking and charging stations for them.
But they are extremely expensive, said Mrs Young.
"A previous funding application for iPads was denied because we were not a registered charity. We then had to fund iPads from our PTA and school fund," she said.
Why do PTAs have to register as a charity?
Since the Charity Commission for Northern Ireland was established in 2013, some 200 PTAs have been registered as charities.
If any organisation, including a PTA, meets the legal criteria to be a charity then it must register with the Commission.
Charity law says that an organisation must apply for registration as a charity in Northern Ireland if:
It has exclusively charitable purposes
It is governed by the law of Northern Ireland
It is an institution (ie: an independent body, the hallmarks of which include having control and direction over its governance and resources)
'We raise funds for core services'
Cathy McManus has been chair of the St John the Baptist Primary School PTA in Fermanagh for two years.
Last year, the PTA raised £3,000 at its Christmas fundraiser.
It was one of the first PTAs to charity register to unlock additional funding doors to maximise its fundraising drive for external monies.
The PTA can now apply for lottery funding, trust funding, local council and community grants, said Mrs McManus.
"The funding we raise goes towards some very important things for the school," she said.
"They rely on the PTA's funding for things like ICT to buy laptops and computers. Not every home has a laptop in a rural area."
How many PTAs are waiting to be registered?
Charitable organisations that are not listed with the Commission must submit an "expression of intent" form to start the application process.
Once the form is submitted, the organisation will be called forward to apply for charity registration.
To date, more than 80 PTAs have submitted expression of intent forms and are waiting to be called forward by the Commission to apply for charity registration.
Some 14 PTAs have submitted the form and have been asked to submit a charity registration application.
In both of these cases, the PTAs are still waiting to be registered as charities.
In total, there are in the region of 1,300 organisations that have made an expression of intent to be registered.
A Commission spokesperson said: "Registration progress in recent years has been slower than the Commission had hoped.
"[Registration has been] constrained by limited resources, staff turnover and changing needs in other areas of charity regulation.
However, registration remains a priority for the Commission, and while progress may be slow, it is steady and the Commission is currently transforming its registration system," added the spokesperson.
Earlier this month, Parentkind launched its parents' parliament, a series of meetings for PTAs, teachers and policymakers in Northern Ireland to debate education topics.
The first parents' parliament of five took place in Bangor and discussed a range to topics including funding issues, parent-teacher consultation and communication, and parental engagement at school.
The events coincide with the publication of new data from a Parentkind's survey of 1,000 parents of school-aged children in Northern Ireland.
Its numbers showed the majority of Northern Ireland parents surveyed (96%) want to be able to influence education decisions at every level, within school, at local government (91%) and with the Education Authority (88%).