Brexit: Irish PM rules out constant Brexit re-negotiation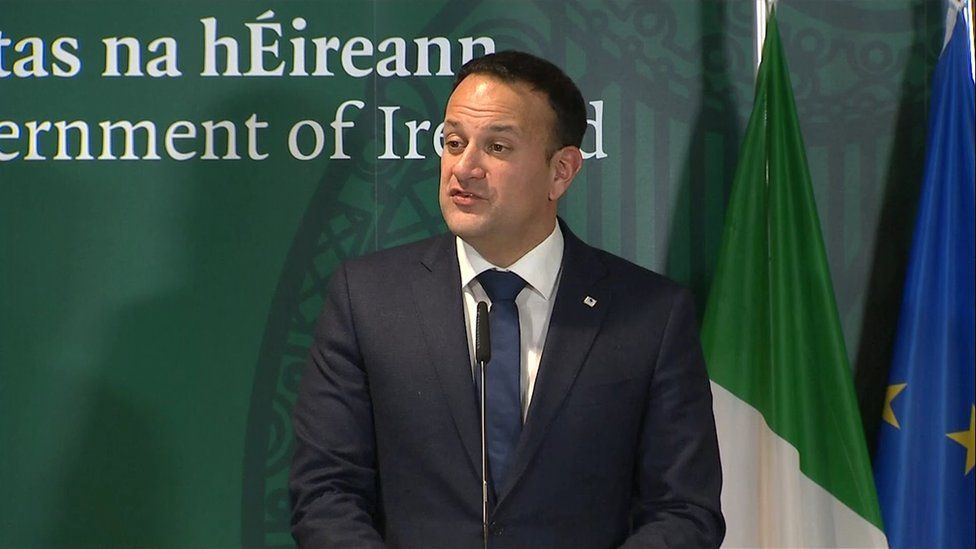 The taoiseach (Irish prime minister) Leo Varadkar has said that the UK cannot continually demand reviews of the Brexit withdrawal agreement.
Mr Varadkar re-iterated his stance that the deal could not be unpicked.
Earlier on Friday, Democratic Unionist Party (DUP) leader Arlene Foster called on prime minister Theresa May to "stand up" and not "roll over" to EU leaders during Brexit talks.
At a Brussels summit, Mrs May sought legal assurances on the Irish backstop.
The prime minister travelled for talks aimed at further guarantees to help the deal get through Parliament, after she delayed a Commons vote in anticipation of defeat.
She said there was still "work to do" but there had been progress and talks over "further clarification" would continue.
However, the taoiseach ruled out a situation whereby the UK "comes back every few weeks" to query points, as "you cannot operate international relations on that basis".
Mr Varadkar indicated that he remained confused over exactly what assurances the UK was seeking.
"I suppose I don't fully know specifically. It would be very useful for us to know... what guarantees they need," he said.
European Commission president Jean-Claude Juncker said there could be clarifications but no renegotiation.
While Mr Varadkar said that Ireland was "always happy to hear" from the UK government, the legal withdrawal agreement was not open for re-negotiation.
He said: "I don't know if it is going to be enough for Westminster.
"What I am hoping is that the very robust assurances we have given would be sufficient for Westminster to ratify the agreement."
Although the next steps are "a matter for the UK", Mr Varadkar predicted that "faced with a choice between extending Article 50 and no-deal", the UK would opt to avoid a no-deal Brexit.
"I don't think no-deal is inevitable.
"There are no proposals for a special (European Council) meeting in January. I don't think they (EU leaders) would be willing to go to Brussels unless they had to," he said.
The DUP leader said the response of EU leaders to the prime minister's appeals was "unsurprising".
"They are doing what they always do. The key question is whether the prime minister will stand up to them or whether she will roll over as has happened previously," said Mrs Foster.
"This is a difficulty of the prime minister's own making. A deal was signed off which the prime minister should have known would not gain the support of Parliament.
"If the prime minister had listened to our warnings and stood by her public commitments, we would not be in this situation."
Critics say the backstop - the plan to avoid a return to a hard Northern Ireland border - will keep the UK tied to EU rules indefinitely and curb its ability to strike trade deals.
Mr Varadkar said he was "very satisfied" with the conclusions of the EU summit.
He said that EU leaders had "reaffirmed our need for the backstop".
"Not just because it protects the peace process and the Good Friday Agreement," he added.
"It's a European issue too - an open door between Northern Ireland and Ireland can't become a backdoor to the single market.
"By resolving it in the withdrawal agreement, we can make sure that no side uses the threat of a border in Ireland as leverage in the future relationships talks."