US soldiers' Portrush Christmas treat for local children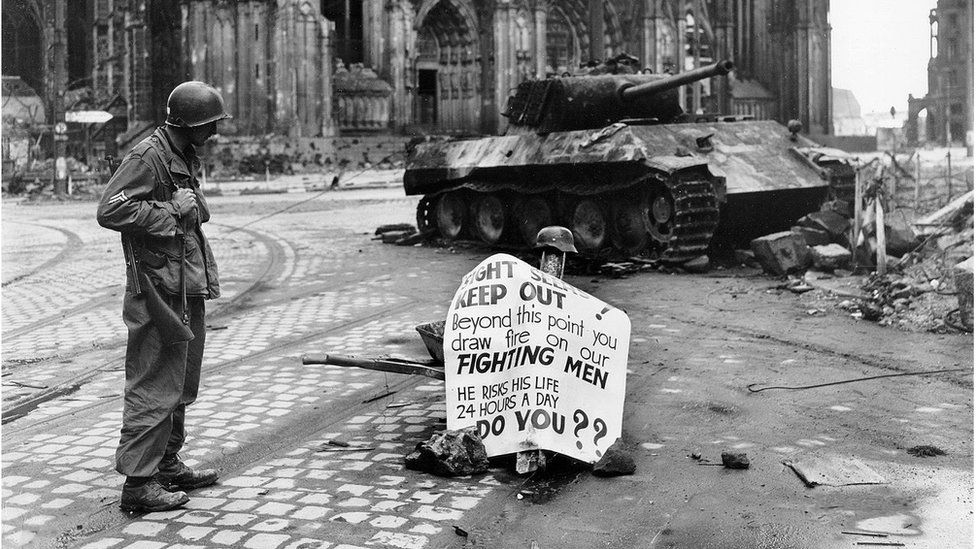 Many of us share childhood memories of Christmases spent at home with family playing with brand new toys.
Christmas Day in 1943 was a very different one in Portrush when American soldiers, stationed in the town, took all of the children out for the day.
About 300,000 US troops were stationed in Northern Ireland as they prepared to fight in World War Two.
Luxuries were hard to come by, but that didn't stop the Portrush soldiers from putting on a party for every child.
The gesture - by the men of the 507th Parachute Infantry Regiment, part of the 82nd Airborne Division - was part of an effort to build good relations with the people of the town.
Hugh McGrattan was just five years old when he was picked up by the US visitors in a jeep and brought with dozens of other children to Barry's Amusements.
"It was absolute bliss, because you might have been taken to Barry's during the summer with a few pennies, which is all you could afford for a few of the items, but that day we had the run of the place," he said.
Each soldier was given the task of looking after three children but Hugh said he had no memory of the young GI whose company he was in.
"I don't know the soldier that I was with that day; I don't know what happened to him.
"I like to think he survived and that maybe he remembers that day, if he's still alive, he may well be."
Kathleen Nevin was also invited to the party, along with her younger sister, during a Christmas Day visit to her grandmother's house.
"One of the soldiers came to the door and said 'are the little girls not coming?', but my grandmother said: 'They don't live in Portrush, they live in Portstewart.'
"But they said, 'oh, that doesn't matter' and they got us into the jeeps. Then they took us up to the Orange Hall and took us down to Barry's," she said.
"There was a little train and all sorts of bumper cars and we were on everything. They were awfully kindly, they looked after you."
"I suppose when I think of them now they were young men but they held you by the hand and they made sure that you got up and were comfortable, it really was a very good day's entertainment for us."
A lot has changed in Portrush in the past 75 years but the kindness shown by the US soldiers stationed in the town, on what for many was their final Christmas, hasn't been forgotten.