Ambulance catches fire at Daisy Hill hospital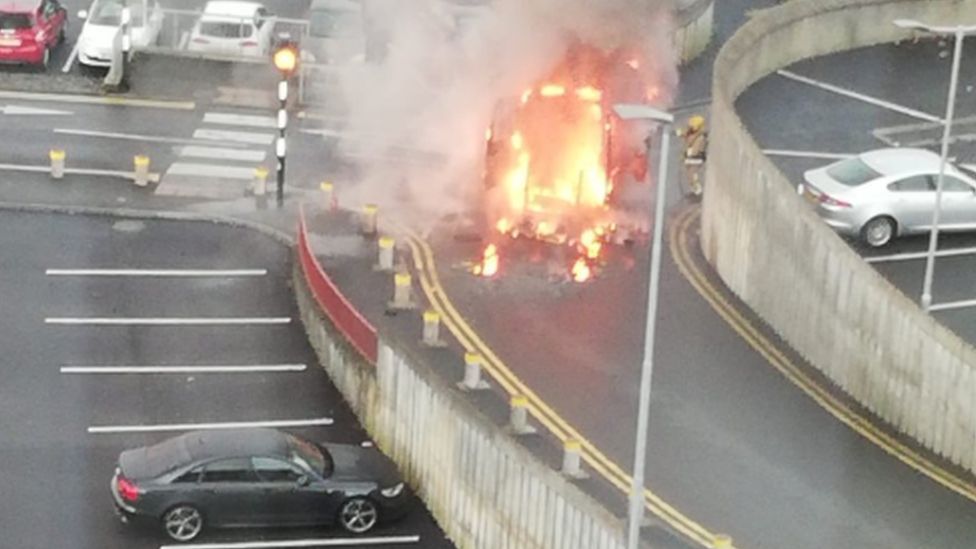 A private ambulance has gone on fire at Daisy Hill hospital in Newry.
No patients or crew were on board at the time, and there were no injuries.
The fire service said it was called to the scene shortly after 09:00 GMT on Friday. A spokesman said the fire was accidental and was caused by an electrical fault within the engine.
"An oxygen cylinder inside the ambulance was involved in the fire," the spokesman added.
Firefighters wearing breathing apparatus brought the fire under control.
The ambulance was operated by Belfast-based Proparamedics.
In a statement, director Heather Hamill-Vaughan said the incident will be "fully investigated".
"There was an incident this morning with one of our ambulances on fire at Daisy Hill hospital. There were no patients on board at the time.
"Due to the rapid action of the crew, the ambulance was placed to cause least damage and Northern Ireland Fire and Rescue Service arrived on scene quickly and extinguished the fire.
"The important thing here is that no one was hurt."