Some Belfast bins won't be collected for up to a month
By Richard Morgan
BBC NI reporter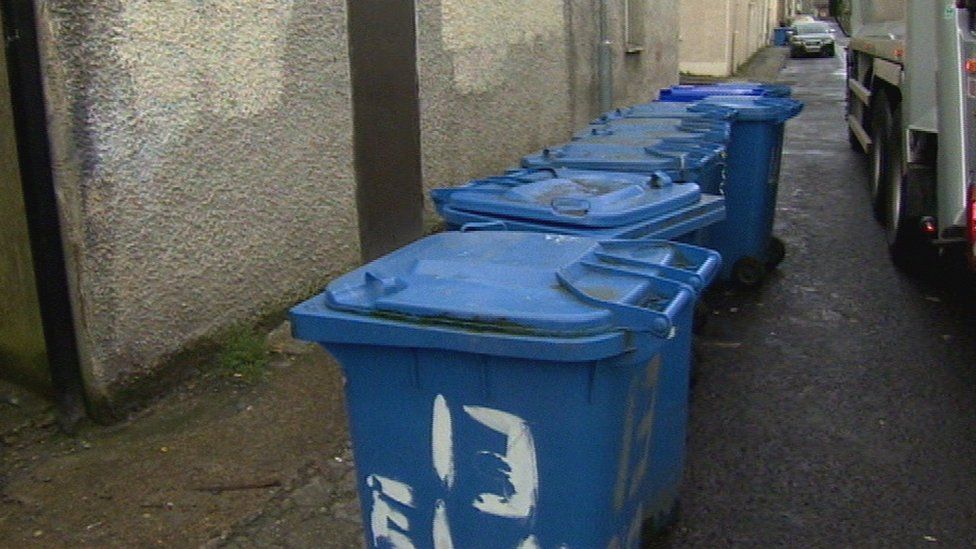 Residents in some parts of Belfast will not have their blue recycling bins collected for up to a month due to staffing issues.
Bins were not collected before Christmas and are not due to be picked up until January.
Belfast City Council has apologised for the inconvenience.
It has encouraged people to bring materials to their local recycling centre.
In the Mountainview area off the Crumlin Road in north Belfast many of the blue bins are overflowing.
Wrapping paper, cardboard, tins and plastic bottles accumulated over the Christmas period mean bins are at capacity faster than usual.
Residents had been told their bins would be collected on Saturday 22 or Sunday 23 December, instead of their normal collection schedule which fell on Christmas Day or Boxing Day.
However, issues with staffing, including the withdrawal of volunteers, meant Belfast City Council could not do this.
The council told BBC News NI the information was "communicated to residents last week as widely as possible via council's website and social media channels".
Gerard, who lives in Mountainview, told the BBC it is unacceptable.
"We got a notice that we had to leave the bins out on Sunday and all of us in the Mountainview district did that," he said.
"Then we got a message saying there was no staff available. The bin is full and there are some overflowing.
"A lot of people are very angry and it is ridiculous at this time of the year."
His neighbour, John, shared the same view: "The garage is now full of stuff and it'll be the weekend before I can get rid of it.
"The rates have gone up and you expect to have your bins emptied. Most of the stuff I have is recyclable.
"We recycle quite well in our house, so our bin is full within two weeks. We hoped to have it emptied in time for the Christmas stuff."
It is understood other areas affected include Springvale, Ligoneil and parts of the Crumlin Road.
'Unfortunate to say the least'
SDLP Councillor Tim Attwood said there had been a breakdown in communication between trade unions and the council.
"We resolved that in relation to the black and brown bins, but not for the blue bins," he said.
"It means some blue bins won't be picked up and normally that would not be a problem, but obviously it's Christmas and that will cause difficulties.
"The trade unions and council had been talking about special payments around Christmas… not everything was resolved and it is unfortunate to say the least.
"Hopefully we can ensure there is good communication and these issues are ironed out in the future, well in advance of Christmas."
A council spokeswoman said: "Due to staffing levels, it was not possible to provide an alternative collection for blue recycling bins over the Christmas and new year period.
"This information was communicated to residents last week as widely as possible, via the council's website and social media channels.
"We apologise for the inconvenience. Where possible, we would encourage residents to bring any recyclable materials to their local recycling centre and keep an eye on our website and social media for the most up to date information."