John Downey: Hearing asked to be halted until Brexit clarified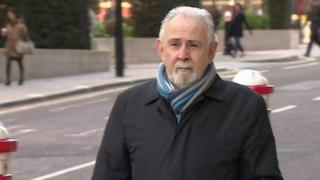 Lawyers for a man wanted in NI have asked a judge not to proceed with his case until Brexit has been clarified.
The High Court in the Republic of Ireland is hearing the extradition case of 66-year-old John Downey for the murders of two soldiers.
Mr Downey, from Donegal, is wanted in Northern Ireland for the murders of Ulster Defence Regiment (UDR) members Alfred Johnston and James Eames.
They were killed in an IRA bomb in Enniskillen, County Fermanagh, in 1972.
On Monday, lawyers for the state told the court in Dublin that Mr Downey's case raises substantial issues surrounding Brexit, but added that they were for the UK courts to address rather than the High Court.
Counsel for the state then told judge Aileen Donnelly that Brexit did not arise as an issue, adding that nobody is in a position to identify what rights may be impinged by Brexit.
Lawyers representing Mr Downey questioned whether there was any evidence against him and asked how it had been preserved.
They told the court that two key prosecution witnesses were now dead and could not be cross examined in court.
The defence lawyers suggested that authorities in Northern Ireland had known for some time that Mr Downey was a suspect for the Enniskillen murders.
They said that they had made no attempt until now to extradite Mr Downey or to bring him to justice.
In 2014, Mr Downey stood trial in London for the murders of four soldiers in the 1982 IRA Hyde Park bombing.
That trial collapsed when it emerged that he had received a so-called "On-the-Runs" letter which said he was not wanted for arrest, questioning or charge by the police.
Monday's extradition hearing was told that Mr Downey's letter says the UK authorities had "no information currently available" that he was wanted by any British police force.
It was dated 28 July 2007 and delivered to Mr Downey by the Sinn Féin MLA Gerry Kelly.
In court in Dublin, Mr Downey's lawyers said they would contest the admissibility of finger print evidence collected while he was under arrest for the Hyde Park Bombings.
Who are the On the Runs?
They are people suspected or convicted of paramilitary offences during The Troubles in Northern Ireland;
They are not covered by the original Good Friday Agreement;
The UK government agreed in 2001 to check to see if "OTRs" were wanted at that time - 187 received letters similar to that received by John Downey.