Ballymurphy inquest: Witness 'can't live with the pain'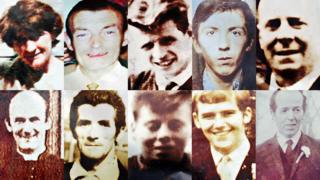 A man who witnessed the shooting of three men - two of whom died - in west Belfast almost 50 years ago has said he "can't live with the pain of it".
Francis Corr was giving evidence to the inquest that is examining the deaths of 10 people at Ballymurphy in 1971.
He was speaking about the deaths of Father Hugh Mullan and Francis Quinn.
They were shot near Springfield Park on 9 August 1971 - they had been trying to help another man, Bobby Clarke, who had already been wounded.
Mr Clarke had been spending time taking children from the area to safety as their homes were being attacked.
He survived the incident and is due to give evidence in person to the inquest tomorrow.
Mr Corr said he had heard of rioting in the area and wanted to check that a friend who lived there was safe, even though he had never been to the Springfield Park area before.
When he arrived, shooting broke out and he took cover near a patch of waste ground.
He told the inquest he saw Mr Clarke being shot and went to try and help him, with Mr Quinn running behind him to help.
He found Fr Mullan also trying to help Mr Clarke and giving him the last rites.
Who were the victims?
Father Hugh Mullan, 38, and Francis Quinn, 19, were shot in an area of open ground behind Springfield Park
Daniel Teggart, 44, Joan Connolly, 44, Noel Phillips, 19, and Joseph Murphy, 41, were shot near the Henry Taggart Army base near Springfield Park
John Laverty, 20, and Joseph Corr, 43, were shot at separate points at the top of Whiterock Road
Edward Doherty, 31, was shot at the corner of Brittons Parade and Whiterock Road
John McKerr, 49, was shot outside the old Corpus Christi Parish
Mr Corr said that Mr Quinn eventually made a run towards the grounds of a factory, in spite of being told that he might be shot.
Mr Quinn almost made it, said the witness, before being shot and falling to the ground.
'Waving white hanky'
Mr Corr told the inquest that the death of Mr Quinn had bothered him "because for a long time I felt responsible".
He said that shortly after the shooting, Fr Mullan was shot and flipped over, starting to moan in pain.
He said the priest had been shot while waving a white handkerchief.
A man beside the priest had a clearly visible first aid box with a large red cross on it, he added.
It was after that that Mr Corr crossed himself, said a prayer and ran for safety, making it to flats at nearby Moyard Park, he said.
He said that after darkness that evening a man showed him a safer way to his own home by another route.
'Can't deal with it'
Mr Corr was asked by a barrister for the Ministry of Defence why he had not made a statement about the incident to anyone for almost 40 years.
Visibly upset and dabbing at tears with a tissue, Mr Corr replied: "It's not that I want to forget what happened.
"I can't live with the pain of it... people can't deal with it."
"I'm only coming to terms with it myself now," he added.
Mr Corr will continue his evidence on Tuesday.