'Fake modelling agency' voyeur Ryan Eastwood jailed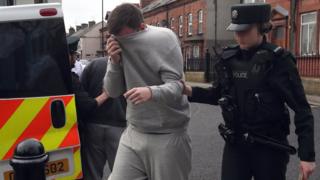 A man who used a fake modelling agency to persuade a woman to undress during an online video "interview" has been sentenced to six months in prison.
Ryan Eastwood, 25, of Coolnagard View in Omagh, County Tyrone, previously pleaded guilty to a count of voyeurism.
A judge at Antrim Crown Court said that Eastwood "looked for satisfaction in causing stress and humiliation" to his victim.
Eastwood will spend six months on licence after his release.
The court was told that the complainant received an email in March 2017 from an address that was similar to an email address for a legitimate modelling agency.
A man who gave his name as Ryan Edwards said he was interested in engaging a lingerie model and suggested conducting a Skype interview with the woman to assess whether she was suitable for a modelling contract.
The court heard that the victim became suspicious after the call and realised she had been duped when she checked the email address.
'Less than candid'
A prosecution lawyer said the defendant initially denied any involvement and claimed that someone else had been using his computer.
He added that Eastwood had now "fully admitted" his involvement in the offence.
A defence lawyer said that his client had reported "being bullied at secondary school" and that that had led to withdrawal, depression and anxiety.
The defendant was due to go on trial in December on 23 charges, including nine counts of harassment, five of causing a person to engage in a sexual act and five of voyeurism.
All of the other counts were left on the books, apart from the single count of voyeurism, as the complainants stated that they no longer wished to be involved in the court process.
The court heard that Eastwood has a previous conviction for an "identical type of offence", which the judge said had to be taken into account.
In sentencing, the judge told Eastwood that his motivation for carrying out the offence, which was contained in a probation report, was "less than candid".
"You maintained to probation that social interaction was your motivation but it's clear your motivation like most sex offenders was based on abuse of power," she added.
It was "clear that you are a bully", she told him.
No online relationships
The judge said she had to take the planning involved in setting up a fictitious online identity into account.
She added: "Sexual-based cyber bullying was causing hurt, extending on occasion to suicide."
The judge said that the victim had "experienced thoughts of self-harm" and added that young people who are now spending more time online "require state protection".
She added that the court would take account of Eastwood's mental health difficulties.
On his release, Eastwood will spend six months on licence, during which he must reside at an approved address, co-operate with any recommended care, not access any device or own a computer or a camera.
He was also ordered not to develop online relationships with women.
Eastwood will automatically be placed on the sex offender register for 10 years.