Firefighters tackle blazes at bars in Bushmills and Armagh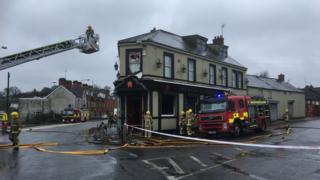 Two pubs in Northern Ireland have been damaged in separate suspected arson attacks.
Police believe the Northern Bar in Armagh was broken into in the early hours of Monday, ransacked and set alight.
Meanwhile it was reported that two men smashed a window in the Scotch House in Bushmills before pouring flammable liquid inside and setting it alight.
The attack was reported to police shortly after 03:00 GMT on Monday.
More than 30 firefighters - in four fire appliances, an aerial appliance and a command support unit - tackled the Armagh blaze on Railway Street.
It was reported at 07:55 GMT and crews arrived at "a well-developed fire".
The operation ended just before 16:00 GMT.
The Northern Ireland Fire and Rescue Service (NIFRS) said it was initially reported to them that there may have been people still in the Northern Bar.
However, after a search they were able to establish that it was empty.
Police said they are also also investigating an incident at Mullacreevie Park in the city, where a white Audi A6 car was set alight shortly before 05:00 GMT.
They are trying to establish if both incidents are linked.
The Bushmills attack was reported to police shortly after 03:00 GMT on Monday.
Army bomb disposal officers were called to the scene as a precaution.
The street was closed for a time but has since been reopened.
Det Sgt Rachel Gardiner said: "Damage was caused to an alcove inside the bar as a result of the incident."
She appealed for anyone who was in Main Street during the early hours of Monday morning and witnessed the attack to contact detectives.
Colin Neill, chief executive of Hospitality Ulster, said: "This is devastating news to hear of these two pub fires in Armagh and Bushmills.
He added that his thoughts were "with the management and staff at this sensitive time and we'll do all we can to support them".