Belfast International passengers complain of long delays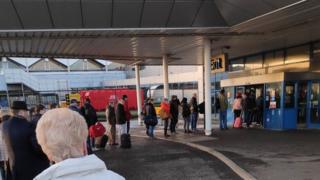 Belfast International Airport has been heavily criticised over long delays which saw passengers queuing outside the airport in freezing conditions.
The Consumer Council said customers were "frustrated" by the length of time it was taking to get through security.
Last month, the airport said it was expanding its security area from six to eight search lanes.
But on Sunday the airport said it would have to reduce the number of lanes to carry out expansion work.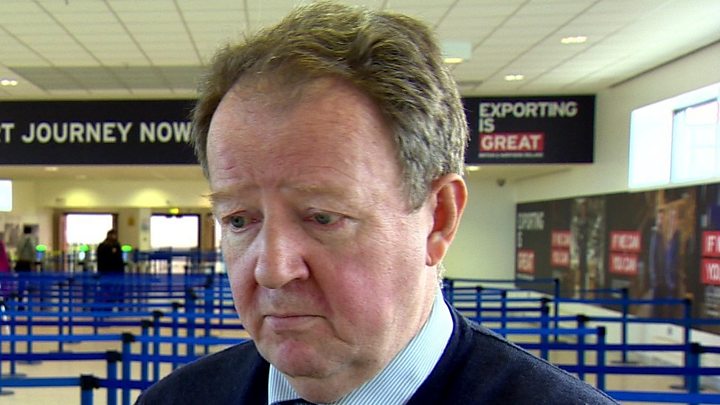 Travellers have taken to social media to complain about security lines stretching outside the terminal.
Graham Keddie, managing director of Belfast International Airport, asked customers for "more forbearance", adding that work on the lanes would be finished before Easter.
Some 70 people missed their flights on Monday, Mr Keddie told BBC Radio Ulster's Talkback programme.
A spokesperson for the airport's security provider, Wilson James, said: "We support Belfast International Airport in its aim of improving the passenger journey through the security screening area of the airport and we share the airport's feelings of this morning's queues which proved challenging whilst operating five out of six the lanes during ongoing building work.
"The sixth lane will be back in operation this week followed by the additional two lanes in time for Easter."
Wilson James reiterated the airport's statement that passengers should arrive at least two hours before their flight time.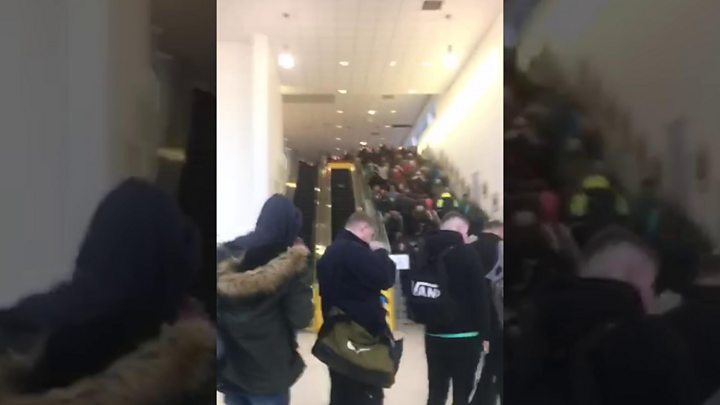 Frustration
Bernie Brown from Ballymena, who is one of those affected by the situation at Belfast International, said she was still in a long queue to get through security more than an hour after arriving at the airport.
"People are frustrated," she told BBC News NI's Good Morning Ulster programme.
Ms Brown, who was travelling from Belfast International Airport to Edinburgh, later said: "I caught my flight, but 36 people did not according to the cabin crew."
"We're all concerned about missing our flights, but there are no airport staff around to assure people about what has been happening."
Low-cost airline easyJet said the airline is opening its bag drop earlier when necessary.
In a statement to BBC News NI, a spokesperson said that the airline is aware that security queues are longer than usual in Belfast International.
"Security at Belfast is managed by the airport and although this is outside of our control, we would like to apologise to any affected passengers for any inconvenience.
"We would like to reassure passengers that we will continue to work with the airport to minimise any disruption."
Waiting outside
With passengers being forced to queue outside Belfast International Airport, BBC News NI's weather presenter Angie Philips said that while the temperature would have been around 2C this morning, with the wind chill it would have felt more like -2C.
Passengers were also complaining of lengthy queues on Sunday night.
The Head of Transport at The Consumer Council, Richard Williams, said the organisation was "aware of ongoing delays".
He added: "Since May 2018, we have been in discussions with BIA and the Civil Aviation Authority (CAA) about these issues."
He said the council recognises that the airport has recruited a new security company and are working to install new security lanes.
"However, passengers still remain frustrated with the queues and the length of time it takes to get through security," Mr Williams added.
The Consumer Council said it was keen in general to hear about passengers' experiences at the airport over the last six to 12 months.