Obesity levels in Northern Ireland get new approach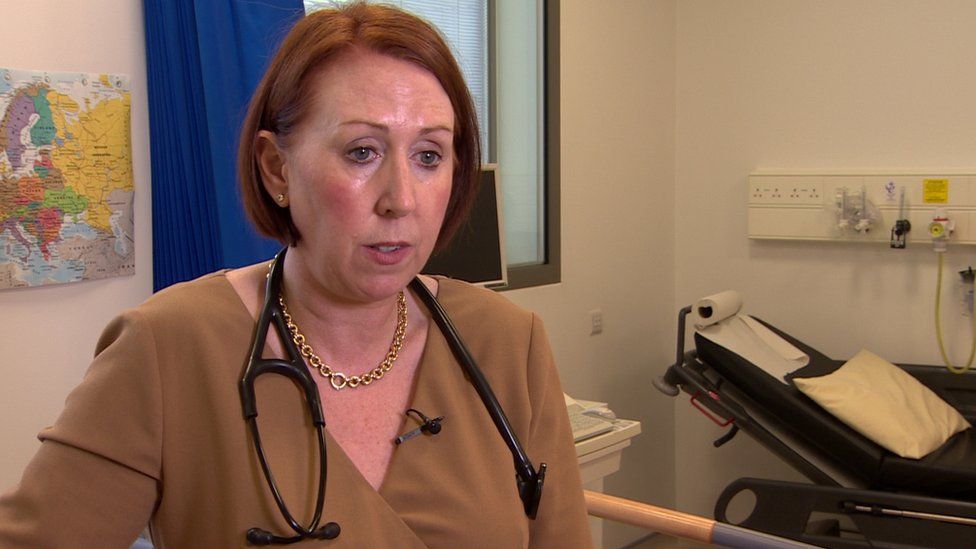 Northern Ireland's obesity levels are shocking, according to a cardiologist working in the Western Health Trust.
Dr Susan Connolly was speaking ahead of a new programme at the South West Acute Hospital in Enniskillen.
Our Hearts, Our Minds aims to help people reduce the risk of heart attacks and strokes by becoming more active, stopping smoking and eating better.
Dr Connolly said people here had much more unhealthy lifestyles than in some other parts of the UK.
Obesity had become a "social norm", she added.
"One in five of the population smokes, which is much higher than in England, the majority of us are overweight or obese, our diets are poor and we don't know how many calories we are eating," said Dr Connolly.
"We are obese and we don't even know we are obese.
"We don't move enough, it's all quite frightening."
BMI and obesity: Where are you on the UK fat scale?
We calculate BMI using the standard formula of a person's mass in kg divided by the square of their height in metres (kg/m2) and display it to one decimal place.
Where a user's data is entered in imperial units, we first convert to metric and then carry out the BMI calculation.
The BMI result is assigned to a standard category:
Less than 18.5 - underweight
18.5 to 24.9 - healthy weight
40 and over - very obese (also known as morbidly obese)
Dr Connolly's views were borne out by a Department of Health survey for 2017-18, which found that 37% of people in Northern Ireland were overweight, and 27% were obese.
People were making an effort to lose weight - but not always successfully - 40% of men and 47% of women had changed their eating habits to try to lose weight.
The survey found that lack of willpower was the main obstacle to successful weight loss.
About a quarter of children were also found to be overweight.
The Enniskillen programme is being delivered as part of the transformation agenda and is for patients living with vascular disease, and for people identified as "at risk" of developing heart disease.
It is the first of its kind in the UK and is based on research carried out in Imperial College, London.
During its 12 weeks, a multi-disciplinary team including a nurse specialist, physiotherapist, dietician and psychologist supported by a consultant cardiologist will work alongside the patient and their partner or relative.
At the end of the programme, both the patient and their partner will get feedback on how successfully they have changed their lifestyle and other risk factors such as their blood pressure and cholesterol.
Dr Connolly said the research was very clear - that getting a sedentary person to move even a little can make a huge difference to their health.
"The patient has to find something they enjoy doing, whether it is dancing, walking, swimming," she said.
"If they enjoy doing it, they'll keep doing it."