Lyra McKee: Theresa May to attend funeral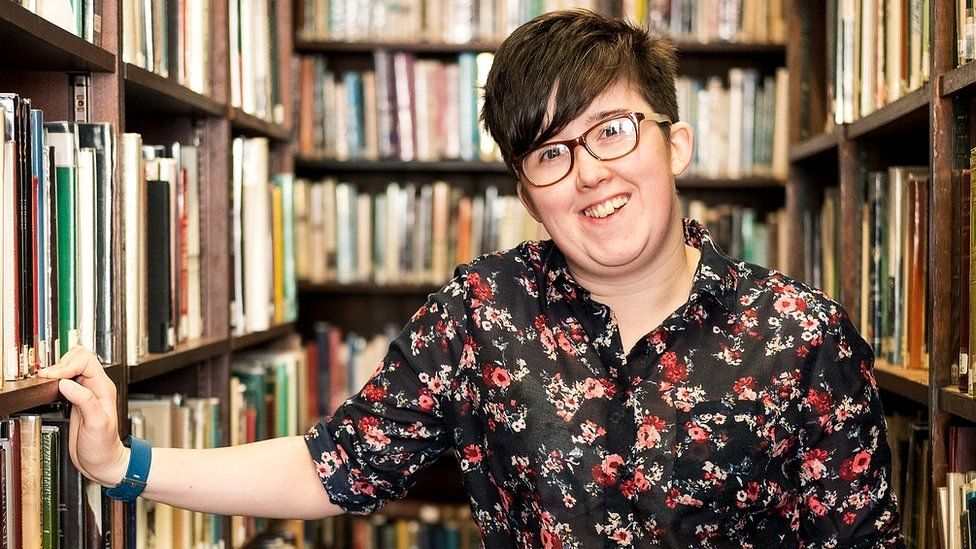 The prime minister is to attend the funeral of murdered journalist Lyra McKee in Belfast later.
The President of Ireland, the taoiseach (Irish prime minister) and Labour leader Jeremy Corbyn will also attend the service at St Anne's Cathedral.
Ms McKee, 29, was shot dead on Thursday while observing rioting in Londonderry.
Her family paid tribute to the "gentle, innocent soul" whose "desire to bring people together made her totally apolitical".
They added that her "personal philosophy" was that the "only way to overcome hatred and intolerance was with love, understanding and kindness".
They described her as having a "warm and innocent heart", adding that she was "the greatest listener and someone who had time for everyone".
She was a "smart, strong-minded woman who believed passionately in inclusivity, justice and truth", they added.
Lyra McKee's funeral will take place on Wednesday at 1pm at St Anne's Cathedral Belfast. It's going to be a celebration...

Posted by Sara Canning on Sunday, April 21, 2019
They said they were thankful for the huge outpouring of sympathy in recent days, and that she should be remembered as "someone who spoke to and made friends with anybody and everybody, no matter what their background".
That will be one of the themes of the funeral service, with Protestant and Catholic clergy taking part and politicians from across the political divide in attendance.
The journalist and campaigner for LGBT rights is survived by her partner, mother, two brothers and three sisters.
Her funeral is to be held at St Anne's Cathedral in Belfast, and the service will be led jointly by the Anglican dean of Belfast, the Very Reverend Stephen Forde, and Fr Martin Magill at 13.00 BST.
The old and new Northern Ireland
By Mark Simpson, BBC News NI
In life and in death, Lyra McKee is bringing people together in Belfast.
The funeral of this 29-year-old woman, from a Catholic background, is taking place in a Protestant cathedral.
Her family chose the cathedral due to its reputation as a "shared space" in a divided city.
It may be Church of Ireland in its status and governance, but it has strong ecumenical links and even has a chapel of unity.
The death of Ms McKee was a horrific reminder of the old Northern Ireland.
Many are hoping that her funeral will be a symbol of something new.
Ms McKee's partner, Sara Canning, said the service would be a "celebration of her life".
"If people would like to wear Hufflepuff, Harry Potter or Marvel related T-shirts I know she would love it," Ms Canning said.
Secretary of State Karen Bradley will be among the dignitaries attending the funeral, while the Irish government's representatives include the foreign minister, Simon Coveney.
Three people have been arrested over the shooting, but all have been released without charge.
Fr Joe Gormley, who anointed Ms McKee after she was shot dead, told BBC News NI there was still a "great deal of shock" in Derry.
"But people are also reflecting and they know that we are faced with a choice in life," he said.
"We either go back to the dark days or move forward."
He said he was willing to "sit down and talk" to those responsible.
Fellow members of the National Union of Journalists (NUJ) are to form a guard of honour at the cathedral.
The union described Ms McKee as "one of the most promising journalists" in Northern Ireland.
Ciarán Ó Maoláin, the union's Belfast secretary, described her as "intelligent, determined and very witty".
There will be a gathering at Guildhall Square in Derry at 13:00 BST for those who cannot attend her funeral.