Ballymurphy Inquest: Soldier 'believed he shot at least one gunman'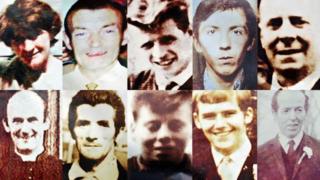 A soldier fired six shots during an Army operation and believed he had shot at least one gunman, the Ballymurphy Inquest has heard.
Soldier B initially made a statement in 1972, which was read out in court.
The inquest heard that an envelope containing his identity was handed to a coroner in 1972.
However, that envelope and information have since been lost, and Soldier B cannot now be identified.
The inquest is looking into shootings in August 1971, amid disturbances in the Ballymurphy area of west Belfast sparked by the introduction of internment without trial.
A corporal in the Royal Military Police, who interviewed Soldier B in 1972, has since died.
Soldier B said he was on patrol with 1 Para on the Upper Whiterock Road on 11 August 1971, two days after the introduction of internment.
His evidence stated that he was in position in the garden of a house when he saw two men crawling up the road. He said one fired past him with a sub machine gun, the other with a pistol.
Soldier B said the men had turned to leave when he stepped out to challenge them, and noticed one of them raise his machine gun to a firing position.
In his statement, he said he fired six 7.62mm rounds with his SLR , and saw the men drop.
He believed he had hit at least one of them because he heard moaning, and as he moved on down the road, he soon came across a wounded man lying face down.
He described following a trail of blood into a garden which he believed came from the other man.
He later described coming under fire further down the Whiterock Road.
Soldier B also described later being shown a photograph of Joseph Corr by a member of the Army's Special Investigations Branch, but did not recognise him.
The court also heard a statement from a local woman made in 1999.
Margaret Thompson is now deceased.
She described seeing paratroopers shooting and watched a wounded man crawl to local homes in an attempt to find help.
She also described the beating of two teenage boys by the soldiers.
'Sporadic gunfire'
Later, the court heard from Soldier A, now known as M166, a corporal with the Royal Army Medical Corps.
He said in a statement in 1972 that he was called forward to treat both men who had been shot.
M166 was not a paratrooper, but was attached to C Company, 1 Para.
He said he was often taken in Army vehicles to treat casualties and frequently did not know exactly where he was or whom he was treating.
His various statements said that on this day, he was dropped off high up the mountain road and heard a lot of sporadic gunfire.
On being called to move forward, he said he joined the soldiers further down and asked where the casualties were.
He first found the body of a man face down on a pavement outside a house on the Upper Whiterock Road, and could not find a pulse.
He said he felt he could not move the man because of the continuing gunfire at the time, and left the man after a matter of seconds.
M166 said he found a second man further down the Whiterock Road who was moaning, and who had a gunshot wound to his right hand side.
He said he dragged him nearer to a metal barrier for better cover, and applied a shell dressing and tried to make the man comfortable.
His statement in 1972 said when he was shown a photograph of John Laverty and Joseph Corr that year, he recognised them.
M166 said he could not remember this statement being taken and was unsure how he had remembered the men's appearance almost a year after he had seen them only very briefly.
He said that shortly after treating them he handed both casualties over to a medical officer and a sergeant, because he was expected to keep moving with his company.
M166 said he later was driven elsewhere to treat a military casualty who had been shot with three different weapons, but not badly hurt.
When he returned to the Whiterock area later, he said, he went to check on both the civilian casualties, but they had gone.
Answering questions in court, screened from the public gallery, M166 said he now could remember fewer details of this incident.
He had previously told the Historical Enquiries Team in 2009 that he had attended so many incidents during his tours of Northern Ireland, he could not now remember so many individual details.
He also explained that it was unusual for him to treat civilians, although he sometimes did.
He said that he was expected to keep his medical supplies for military casualties.
M166 was later asked by a barrister for the Corr family if he had, in fact, treated anybody that day.
He reacted angrily, saying that he had.
"It's 48 years ago, for God's sake." he said.
"Yes I appreciate that," answered the barrister.
"You don't though, do you?" replied M166.
He added that although he was not supposed to treat civilians, he did, because he felt sorry for them.