George Gilmore murder accused found not guilty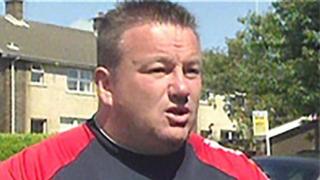 Three men accused of killing a high-profile loyalist in Carrickfergus, County Antrim, have been found not guilty at Belfast Crown Court.
George Gilmore, 44, died a day after he was shot in the head in March 2017.
County Antrim men, David McMaw, 30, from Starbog Road in Larne, and his brother Darren McMaw, 34, from Kilgreel Road in Antrim, were cleared.
Brian McClean, 37, of Valetta Park in Newtownards, County Down, was also found not guilty.
Mr Gilmore was driving in the Woodburn area of Carrickfergus when he was shot.
The three men on trial were accused of murdering him and attempting to kill the two passengers in his car.
The trial was told the vehicle was raked with gunfire.
It was alleged by the prosecution that Brian McClean acted as a look-out, David McMaw was the gunman, and his older brother Darren McMaw was in a van tracking the movements of George Gilmore's vehicle.
The three defendants denied all of the charges against them.
On the day of the murder, Mr Gilmore's son, George Jnr, was one of the first on the scene and called 999.
The judge, Mr Justice McAlinden, took five hours to read out his judgement.
Friends and family of Mr Gilmore were in court for the hearing.
The judge said that the evidence of a number of witnesses who testified in the case had been unreliable.
"It is clear that the evidence of George Gilmore Jnr, Mateusz Ostrowski and Stephen Boyd formed a central pillar of the Crown case against the three accused," he said.
"My detailed and painstaking examination of the evidence of these three witnesses, and the various accounts given by them, leads me to the inescapable conclusion that their evidence, riven as it is with utterly implausible, internally conflicting and mutually contradictory accounts, is incapable of belief and that no conviction in this case could be safely founded on this evidence.
"I simply do not believe that any of these three witnesses saw what they say they saw on the day in question."
The defendants sat in the dock and showed little emotion as one by one, they were found not guilty.
However, a number of their friends in the public gallery cheered.
'Cancer feeding off fears'
Before leaving court, the judge said: "When is this society going to finally realise that these self-styled paramilitary organisations are nothing other than a cancer feeding off the deeply rooted tribal fears of the communities in which they operate?"
He added: "Resorting to the use of a gun solves absolutely nothing, and only serves to engender further violence and the further perpetuation of hatred."