Mourne Wall repair job wins top prize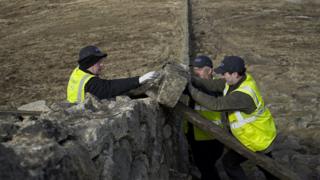 A huge restoration project on Northern Ireland's longest listed monument has won top prize at an awards ceremony.
The work involved 600 repairs along the 22-mile (35km) length of the Mourne Wall in County Down, costing £1.6m.
The wall runs across 15 peaks, marking the boundary of the 9,000-acre catchment of the Ben Crom and Silent Valley reservoirs.
The repair work brought the wall back to the condition it was in when it was completed in 1922, after 18 years.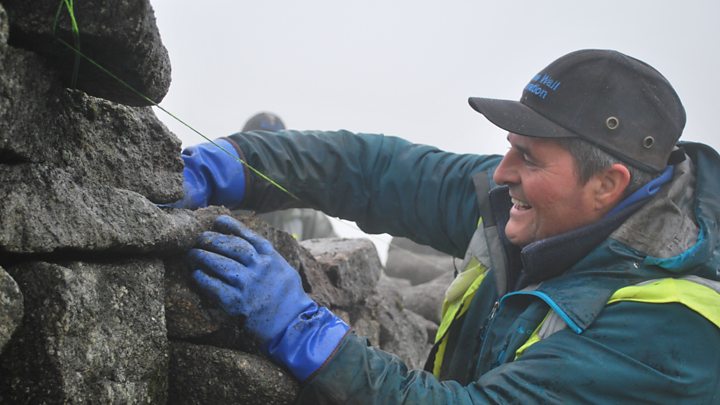 It won the project of the year prize at the Royal Institution of Chartered Surveyors (RICS) Northern Ireland awards on Thursday night.
The wall has been a listed monument since 1996 and belongs to Northern Ireland Water.
Sections of it had fallen into disrepair due to weather, livestock and lightning strikes.
One of the repairs required work to a collapsed section on Slieve Bearnagh.
Niall McGovern from Geda Construction, the engineering firm that planned the work, told BBC News NI that the logistics had been "a huge challenge from the get go".
Helicopters were used to transport material and stonemasons, some of whom were descendants of the original builders.
"From the start we decided we weren't going to be using any mechanical means, any track machinery or anything like that near the wall," said Mr McGovern.
"So we went the traditional route.
"We needed a specific type of stonemason to be able to do that - where better to find them than in the kingdom of Mourne?"
NI Water's Michael Donnelly said those involved in the project had been "very humbled" after beating the competition to win the RICS award.
"The whole wall has a certain charm... it brings out the passion in the project team members," he added.
"We completed the project 18 months ahead of schedule because of it."
He said NI Water was working to secure more funding for the continued upkeep of the wall and he encouraged the public to play a role in making sure that it remains in good condition.
"We would ask people if they are going up there [to] maybe not to walk on the wall as much because it's not really designed for that.
"If they stay off the wall it will prolong its life even longer."
As well as being a listed monument, the wall is a major navigational aid for the 100,000 hillwalkers who visit the Mournes every year.
Michael Hannaway, the chair of the RICS judging panel, said the team behind the project "should be very proud".
"It was no easy task with such a challenging landscape to work within and many factors to consider in ensuring minimised environmental impact," he added.
The project will now go forward to a UK-wide competition.