Large fire at metal recycling business in Belfast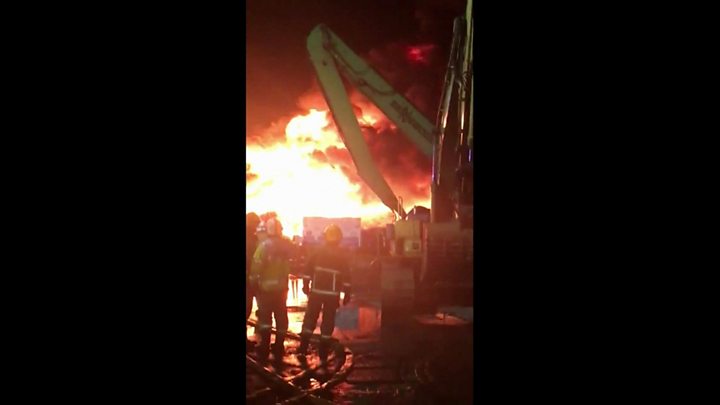 A large fire at a metal recycling business in Duncrue Street in north Belfast has been brought under control.
The fire service was called to McKenzies (NI) Ltd at 23:51 BST on Sunday about a large pile of scrap metal on fire.
More than 40 firefighters tackled the blaze.
The NI Fire and Rescue Service (NIFRS) said it was brought under control on Monday morning but the nearby Milewater Road would be closed all day.
Fire crews remained at the scene on Monday.
An NIFRS spokesperson said: "There are no reported injuries and all persons are accounted for."
Assistant Group Commander David Harbinson of the NIFRS said crews had responded to a "well-developed" fire and that they had worked in "challenging conditions".
"There were six pump appliances, one high-volume pump, one aerial appliance," he said.
"Several officers attended the fire, they worked through hard and arduous conditions to bring the fire under control and keep it within McKenzies' yard."
McKenzies (NI) Ltd said that despite the "dramatic" images" it "did not expect there to be any lasting damage to the site".
The firm's senior management expressed their relief that no-one was hurt and said they had received messages of support from the UK and Ireland and as far away as Hong Kong.
They acknowledged "the outstanding professionalism and support of the Northern Ireland Fire and Rescue Service who have the situation under control".
"In addition to this we would like to thank and express our appreciation to all our stakeholders who have been in touch with us offering their support and commitment to the business," they said.
The firm expects the site to be "open again for business within the next 24 hours".