Lurgan security alert at St Colman's Cemetery ends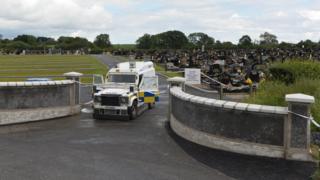 A suspicious object that sparked a security alert at a graveyard in Lurgan has been removed for forensic examination, police in County Armagh have said.
St Colman's Cemetery on Tarry Lane was closed for most of the day "to ensure public safety".
The security alert has now ended and the graveyard has reopened.
Police said the search began early on Monday in response to "continued community concerns" about drug dealing.
Army bomb experts were tasked to the scene following the discovery of the suspicious object.
Ch Insp Barney O'Connor thanked the public for their patience during the alert, but added: "When it comes to keeping people safe we take no chances," 
Police are appealing for information.