Tory leadership: Backstop 'has to change or go', says Hunt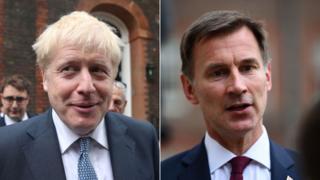 Foreign Secretary Jeremy Hunt has told a Conservative Party leadership hustings that as Brexit approaches, the Northern Irish backstop "has to change or has to go".
He and Boris Johnson made their pitch to be the next PM to Conservative Party members in Northern Ireland.
The two candidates for the Tory leadership have been taking part in a series of party events across the UK.
The current EU withdrawal agreement was "a dead letter", said Mr Johnson.
He said the backstop presented the UK with the "unacceptable choice" between "abandoning the ability to govern ourselves" or to "give up control of the government of Northern Ireland".
The backstop - the most controversial part of the deal Theresa May negotiated with the EU - is a position of last resort to prevent any new checks or controls on the Irish border after Brexit.
The UK and EU would prefer to maintain the border status quo through a comprehensive trade deal.
Mr Johnson met with DUP leader Arlene Foster at Stormont after the hustings.
He reaffirmed his promise of there being no hard border between Northern Ireland and the Republic of Ireland.
Mrs Foster said they had a "useful discussion about restoring devolution and delivering on the EU referendum result".
'Tories got talent' comes to Belfast
By Jayne McCormack, BBC News NI political reporter
It was described as the Northern Ireland version of "Tories got talent" by host, broadcaster Iain Dale.
But Jeremy Hunt and Boris Johnson stuck to their scripts on Brexit and the backstop - which seemed to go down well with the Northern Ireland Conservatives in the room.
However, they diverged on restoring the Northern Ireland Assembly.
Mr Hunt said he would be "personally" involved, while Mr Johnson told the parties just to "get on with it".
The 500 NI Conservative members will all get their say on who becomes the next PM - but it's the DUP vote that the two men are really courting.
They both agreed that winning over their unionist allies is vital for a Tory majority in Parliament.
That's something the new prime minister will have to address quickly, by renewing the £1bn confidence and supply pact when he enters No 10 later this month.
The Conservative Party's 160,000 members will begin voting next week and Mrs May's successor is expected to be announced on 23 July.
Backstop
Mr Hunt was first to take to the stage at the event.
"We are never going to have a deal to leave the EU with the backstop," he said.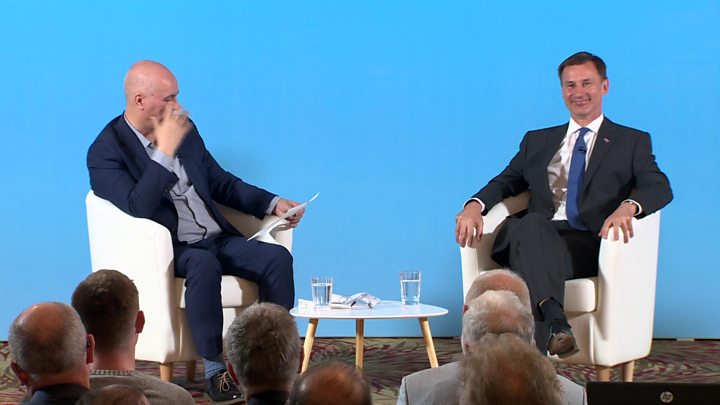 Mr Hunt has said he would decide by the end of September whether there was a "realistic chance" of reaching a new Brexit deal with the EU.
He said he would deliver a provisional "no-deal Brexit budget" in early September and then give the EU three weeks.
"The fundamental issue with the backstop is not the principle that we shouldn't have border infrastructure on the island of Ireland - that's accepted by all sides," he said.
"The principle is the backstop which traps us into following EU customs tariffs until the EU gives us permission to leave the customs union... we have to find a different solution."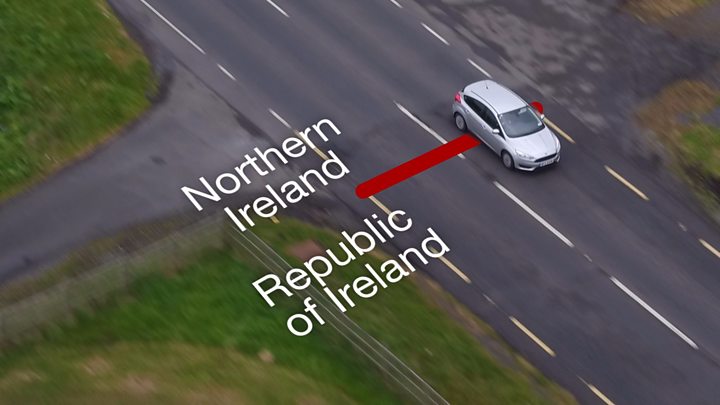 He said he believed the answer was a technology-led solution, as modelled in Germany.
He told Sky News earlier that German Chancellor Angela Merkel was willing to look at any new proposals put forward by the next prime minister.
For his part, Mr Johnson said the backstop presented the UK with an unacceptable choice and that "the UK as a whole should come out of the EU".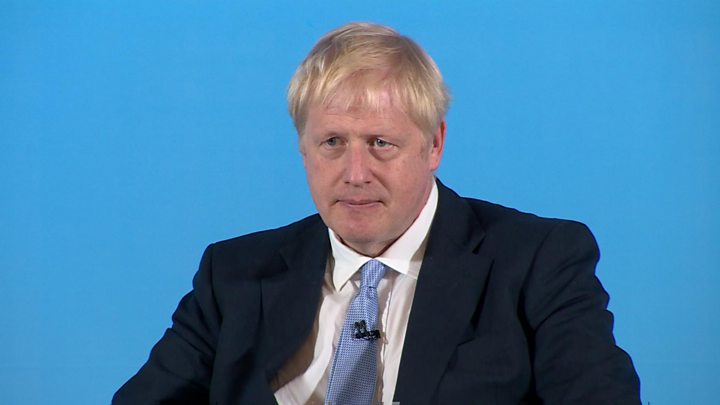 Mr Johnson has vowed to leave the EU "come what may" by 31 October.
Speaking to reporters on Monday, he said it was important to have a "hard deadline" for leaving, adding that previous no-deal preparations had "sagged back down" after exit dates were not met.
Abortion and same-sex marriage
Mr Hunt said his campaign was based on trying to fire up the economy, increasing defence spending, abolishing illiteracy and supporting young people.
Were he from Northern Ireland, he would want the law changed on both abortion and same-sex marriage, he said, but added that both matters were issues for a devolved government.
Unlike other parts of the UK, the 1967 Abortion Act does not extend to Northern Ireland.
Currently, a termination is only permitted in Northern Ireland if a woman's life is at risk or if there is a risk of permanent and serious damage to her mental or physical health.
Northern Ireland is also the only part of the UK where same-sex marriage is illegal.
Mr Johnson also said the NI abortion issue should be debated at Stormont.
"I don't think that the UK should be imposing something that should be decided here."
During a vote in November 2015, Northern Ireland assembly members supported same-sex marriage by a slim majority of 53 votes to 52.
But the devolved government has been in limbo since 2017 when a power-sharing agreement between rivals Sinn Féin and the DUP broke down.
Both would-be prime ministers pledged to put renewed efforts to get Stormont up and running.
"It is totally unacceptable that politicians that are paid to run the NHS and schools, and promote inward investment are not turning up to work and doing their job," said Mr Hunt.
Mr Johnson said if he was leader, he "would do whatever I can personally to energise" power-sharing talks which are currently stalled.
"Everyone needs to recognise that it is the citizens and voters of Northern Ireland that are losing out."
Pact
Following the hustings event, Mr Johnson tweeted that it was a "pleasure to meet" DUP leader Arlene Foster "to discuss restoring and protecting the governance of Northern Ireland".
In 2017, the Conservative Party entered into a confidence-and-supply pact with the DUP.
The Conservatives needed the votes of the DUP's 10 MPs in order to have a working Commons majority after the 2017 Westminster election, but had to agree to an extra £1bn in spending for Northern Ireland.
At the hustings event, Mr Johnson was asked about his attendance at a DUP conference last year.
Mr Hunt said he would "infinitely prefer if we had Conservative MPs in Northern Ireland so we didn't have to rely on other parties for that majority but to govern is to accept the world as it is".
Decision made?
The candidates are set to face each other in an ITV debate on 9 July and at an event hosted by the Sun newspaper and talkRADIO on 15 July.
Mr Hunt tweeted on Tuesday that he had been invited to a live BBC TV debate against Mr Johnson on 16 July.
He argued that about 90% of Conservative members would have already voted in the leadership race by then.
Meanwhile, former party leader William Hague, who served as leader of the opposition between 1997 and 2001, wrote in the Daily Telegraph that both candidates had "great merits" but added that he believed Mr Hunt would make the better prime minister.