First Derivatives founder Brian Conlon dies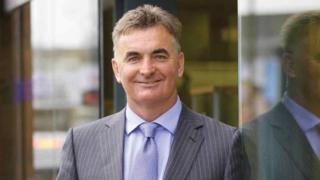 Brian Conlon, one of Northern Ireland's most successful businessmen, has died aged 53.
He was the founder and chief executive of the Newry-based financial technology company First Derivatives.
Mr Conlon founded First Derivatives in 1996 and grew it into a business valued at £1bn with more than 2,000 staff.
In May, it was announced that Mr Conlon had been diagnosed with cancer, but would continue to work as chief executive during his treatment.
In a statement released on Sunday, the company's non-executive chairman, Seamus Keating said: "Brian built a world-class business in First Derivatives.
"His drive, ambition and determination inspired all who had the privilege to work with him. This news is a profound shock to all of us."
Mr Conlon began his career with accountants KPMG before working at investment bank Morgan Stanley in London.
After a spell at the software firm Sungard, he founded First Derivatives.
He floated the business on the stock exchange in 2002, at which time it had just 26 employees and a turnover of less than £2m, but he remained its single largest shareholder with a stake of over 20%.
Based on its current share price, the firm is worth about £800m.
In recent years, Mr Conlon regularly featured on 'rich lists' as gains in First Derivatives' share price gave him an estimated wealth of over £200m.
The company provides software and services to investment banks and other financial institutions.
It has also diversified into areas like marketing technology, gaming and the automotive industry.
Many of First Derivatives' employees work in financial centres across the world, but it is a significant employer in Newry and Belfast and despite its success on the world stage, Mr Conlon kept the company's global headquarters in Canal Quay in Newry.
It is also a major graduate recruiter from Northern Ireland's universities.
In the 1980s, Mr Conlon was a talented Gaelic footballer who played for the County Down senior team before suffering a serious knee injury.
Down GAA said he was "one of the most talented footballers to wear the red and black in the mid 1980s before injury cut short what could have been a most promising career".
"Brian was a great friend to Down GAA in so many ways, quietly and without ceremony he made a difference to the county just as he made a difference for his home city of Newry, where he created employment and never ever forgot his roots," it added.
DUP leader Arlene Foster tweeted that Mr Conlon was "always very committed to creating high quality jobs for the local community and was a trailblazer in financial technology".
"A huge loss. My deepest sympathy to his family," she added.
Sinn Féin MLA Conor Murphy said Mr Conlon was "hugely committed to the Newry area and region".
He said that in recent years Mr Conlon and his partners had grown First Derivatives "from a small local company into a globally-renowned company, [providing] many young people from the area and across Ireland opportunities to gain employment and to travel the world".