Frank Kerr: Man appears in court over 1994 IRA murder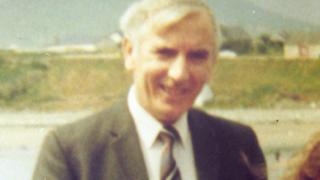 A 60-year-old man has appeared in court charged with murdering a postal worker in 1994.
Frank Kerr died after being shot during an IRA robbery at a sorting office.
James Seamus Fox of Carewamean Road in Jonesborough faces charges including the murder of 54-year-old Frank Kerr, the robbery of £131,000, possession of a firearm and membership of a proscribed organisation.
The judge granted bail to Mr Fox, but this is to be appealed by prosecutors.
Mr Kerr died after being shot during the robbery at Newry sorting office that occurred just months after the IRA ceasefire in 1994.
The IRA later admitted that its members were involved in the incident.
There were a large number of supporters in the public gallery for the hearing.
They included Sinn Féin's Newry and Armagh MP Mickey Brady.
A detective inspector said that he could connect Mr Fox to Mr Kerr's murder. This was on the basis of DNA evidence on a Post Office uniform found after the killing.
Prosecutors opposed bail, but District Judge Eamonn King granted it - saying that he believed any flight risk or potential for interference with witnesses could be managed.
Prosecutors said they would appeal this decision in the High Court - meaning he will remain in custody until that hearing early next week.
The case will be heard in court in Newry next month.