Londonderry: Petrol bombs thrown at police after parade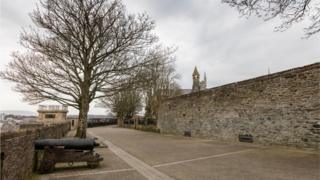 Petrol bombs and missiles were thrown at police and near to the Apprentice Boys Memorial Hall in Londonderry on Saturday.
Police received a report at about 22:45 BST that two petrol bombs had been thrown over the city walls near to the hall.
Up to 20 petrol bombs and other missiles were then thrown at officers in the Fahan Street area, and pallets set on fire, police said.
No-one was injured in the attack.
Police Service of Northern Ireland (PSNI) Supt Gordon McCalmont said the Memorial Hall was busy with people socialising after the Apprentice Boys parade earlier on Saturday.
'Cannot be tolerated'
"While no one was injured, this could have been much different had it not been for the actions of police," Supt McCalmont said.
"This violent behaviour cannot be tolerated."
The annual Apprentice Boys parade is one of Northern Ireland's biggest parades and marks the anniversary of the ending of the Siege of Derry in August 1689.
Members of the Apprentice Boys, one of the Protestant Loyal Orders, made their way around the city's historic walls accompanied by bands.
The main parade passed off peacefully.
At Shipquay Street, in the city centre, dissident republicans held a protest on Saturday afternoon and put a banner across the street.
Ahead of the parade, officers engaged with members of one band, the Clyde Valley Flute Band from Larne, County Antrim.
They had a Parachute Regiment insignia bearing the letter 'F' on their shirt sleeves. They were allowed to march, but were flanked by police officers.
Later, the band's bus was stopped just outside Derry. Members were again spoken to by the police.
Local DUP politicians were also photographed standing under a banner bearing the insignia of the British Armed Forces and the Parachute Regiment.
DUP MLA Gary Middleton said it was "not about sticking two fingers up to the Bloody Sunday families".
Sinn Féin MLA Raymond McCartney said the banner was intended to be provocative, and that people needed to see this in the context of Derry's history.
The PSNI said it was investigating the behaviour and symbols displayed by one band.
A spokeswoman said a report would be forwarded to the Public Prosecution Service (PPS).
She also added that a number of individuals would also be reported following an "unnotified protest".
Police said five people were arrested on suspicion of public disorder offences during the day.