NI ambulance crew shortage for fourth night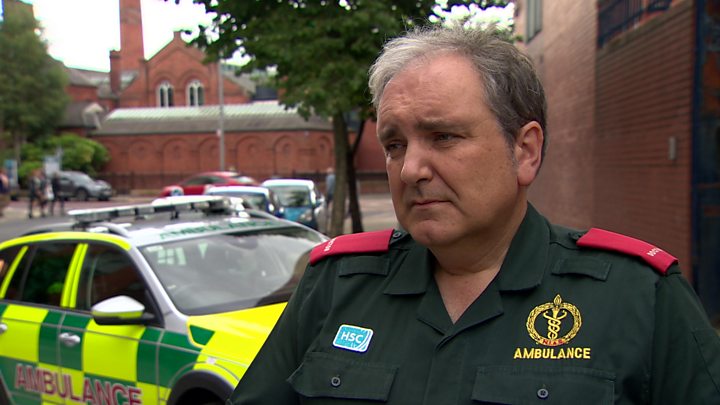 The Northern Ireland Ambulance Service (NIAS) worked a fourth night with major staff shortages.
Over the weekend, it was down by about 20 crews - roughly a quarter of its normal workforce - but management say there was no major incident.
Two ambulance crews were drafted in from the Republic of Ireland over the weekend.
The NIAS was short of 12 crews on Monday, according to chief executive Michael Bloomfield.
Mr Bloomfield told the BBC that over the summer period, many shifts will not be covered.
"We rely on staff overtime and our partners in the voluntary and private ambulance services", he said.
However, he added that there will be "intensive work going on" to improve the situation.
'Tackle the issue'
There have been staff shortages for the past four nights, with 20 crews unavailable on Sunday night.
The crews from the Republic of Ireland were based at Altnagelvin Hospital in Londonderry on Saturday and Newry ambulance station on Friday.
Dr Nigel Ruddell, NIAS medical director said voluntary ambulance services were being drafted in and NIAS had been working with private services.
'On a wing and a prayer'
Analysis by BBC News NI health correspondent Marie-Louise Connolly
Northern Ireland does not have enough paramedics.
Between 2014 and 2018, practically no new paramedics were trained.
There was no forward planning to allow for those retiring or the high numbers off on sick leave.
This is a familiar story throughout the health service - all front-line services are reporting gaps.
The Royal College of Nursing is reporting 2,600 unfilled nursing posts. General practice is also reporting too few doctors.
It is a problem across the system and across the UK.
According to sources, wards, surgeries and - as we have known for some time - the ambulance and fire services are often being run on a wing and prayer.
The service had appealed for staff to come to work at the weekend because of difficulties filling rotas.
"We are doing everything we can to provide as high a level of cover as we can," said Dr Ruddell.
"We are going to prioritise those calls which have the most critical need.
"Unfortunately, those people who have a less critical need are the ones who wait longer and we apologise for that."
He also thanked staff for "stepping up to the plate" and volunteering to take on extra shifts.
The medical director said NIAS received about 600 emergency calls to its control room every day.
"We have 46 extra paramedics due to qualify in November and around 48 extra technicians who qualified in May," he said.
"We are training and recruiting people as quickly as we can."
John Compton, the former head of the Health and Social Care Board, told BBC Radio Ulster's Good Morning Ulster programme that it is not unusual for the trust to be under pressure with annual leave.
"While under staff pressure they [the NIAS] have maintained a reasonable service for the population," he said.
"But if the disruption persists for more than six to eight weeks there needs to be other things we look at."