A-level top grades rise in Northern Ireland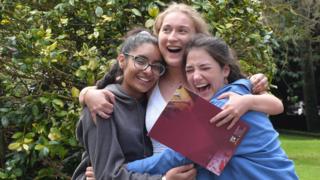 There has been a rise in the proportion of top A-level grades awarded to pupils in Northern Ireland.
About 28,000 students received their A-level and AS-level results on Thursday morning.
Just over 30% of entries were awarded A* or A grades, a rise of half a per cent on 2018.
In a further change from last year, a higher number of entries from girls than boys achieved the top A* grade.
More than 9% of entries from girls got an A* grade in 2019 compared to 8.3% of entries from boys.
More than 85% of A-level entries were made through the Northern Ireland exams board, the Council for the Curriculum, Examinations and Assessment (CCEA).
A-Level entries in Northern Ireland declined by more than 2% in 2019, though exam organisations said that was mainly due to a fall in the year 14 population in schools.
However, the overall A*-E pass rate at A-level in Northern Ireland increased slightly by 0.1% to 98.3%.
Pupils in Northern Ireland have consistently outperformed their counterparts in England and Wales in recent years.
Maths remained the most popular A-level subject overall with more than one in 10 entries.
The remaining A-levels were taken through the four English and Welsh exams boards.
Biology, business studies, religious studies and English literature complete the list of the top five most popular subjects.
Maths was the most popular subject among boys, but biology was the most popular subject among girls.
The proportion of A-level entries in the STEM subjects, science, technology, engineering and maths, declined slightly to just under 40%.
There was also a further decline in the numbers of pupils taking A-levels in most languages.
Education Authority chair Sharon O'Connor said that the high standard of education in Northern Ireland's schools was something to celebrate.
"As the world is changing, with the introduction of new technologies and new ways of doing things, we need to be sure that our young people are prepared to meet these challenges and capitalise on opportunities, and having a good education is all part of this."
Fintan McCollum from Our Lady and St Patrick's College, Knock is off to Queen's University to study medicine in September. He said: "It's all worth the hard work in the end."
At Regent House Grammar School in Newtownards, Abby got an A*, an A and a B. She said: "That's me into my course so I'm very happy."
In Omagh, Pak Lam Tsang from Drumragh Integrated College learned that was accepted into St Andrews with an apprenticeship at accountancy firm PWC.
Universities and colleges will be providing extra help and advice over the next few days for pupils who have received results.
CCEA will also operate an exams helpline on 028 9026 1260 while the Department for the Economy's careers service is also available on 0300 200 7820.