Londonderry: PSNI treat bonfire material as 'hate incident'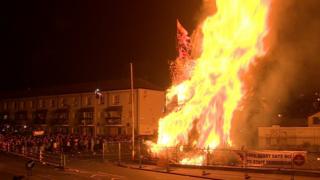 Police are treating the display of flags and banners on a bonfire in Londonderry as a "hate incident".
The bonfire had banners and flags about Soldier F - the ex-British soldier who is facing prosecution for two murders on Bloody Sunday.
The Democratic Unionist Party (DUP) said it complained about the items and asked for them to be removed.
Parachute Regiment flags were also burnt, alongside the union flag and loyalist paramilitary banners.
The PSNI said it received reports the material appeared on the bonfire in the city's Bogside on Thursday afternoon.
PSNI Assistant Chief Constable Mark Hamilton said police acknowledge that "what appears on these bonfires causes massive offence to a large part of our community".
"This type of behaviour is designed to stoke tension and provoke conflict and create instability," he said.
"We recognise and accept that people perceive this to be demonstrating and motivating hostility towards them, based upon their political background or their religion."
Foyle DUP MLA Gary Middleton said: "We need to get to a point where we're not burning flags, banners effigies, belonging to one side or another within these communities.
"It is offensive, it is hurtful, and we need to get away from that."
SDLP councillor Brian Tierney, who chairs Derry City and Strabane District Council's bonfire committee, said he believes the flags may have been a reaction to events in Derry over the last week.
Last Saturday, a flute band wore Parachute Regiment insignia during the annual Apprentice Boys parade in Derry.
The Apprentice Boys have since said they recognise the potential upset that caused to nationalists.
But the Bloody Sunday Trust described the events as a setback.
Mr Tierney told BBC Radio Foyle on Friday: "We have to let what happened over the last six or seven days settle down and all come back around the table, not only around parading but also around the bonfire issue and see how we can move that forward."
A number of homes close to the bonfire, which was lit on Thursday night, were boarded up.
Firefighters were called to the fire at about 23:10 BST.
Northern Ireland Fire Service group commander Jonathan Tate said four appliances and 16 firefighters were deployed to stop the fire spreading to nearby property.
"Obviously, this is a bonfire close to a property so we had to take action to prevent the fire spreading," he said.
He said normal service was maintained in the rest of the city during the operation.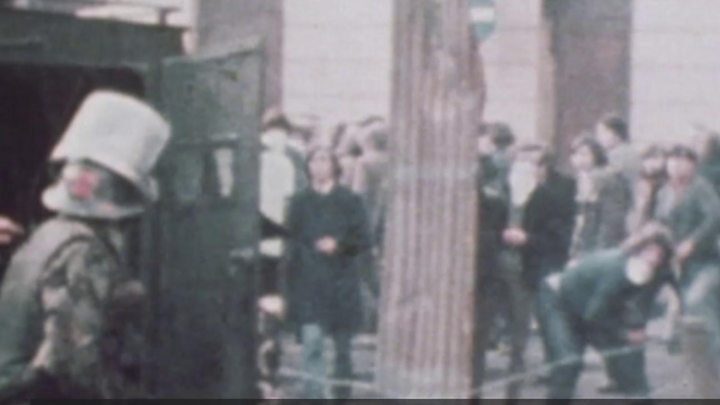 In a social media post, PSNI Foyle said the material on the bonfire was "perceived as offensive and distasteful".
"We are treating this as a hate incident and will continue to gather evidence as this evening continues," the statement added.
"Where crimes have been committed and suspects identified they will be brought before the courts.
"As always, we will continue to engage with local representatives throughout the night to ensure the safety of everyone in the city."
Soldier F is a former member of the Army's Parachute Regiment and he is to be prosecuted for the murders of James Wray and William McKinney on Bloody Sunday.
Thirteen people were shot dead by the Army's Parachute Regiment on Bloody Sunday in Derry in 1972.
The ex-soldier also faces charges for the attempted murders of Joseph Friel, Michael Quinn, Joe Mahon and Patrick O'Donnell.
Bonfires on 15 August are traditional in some nationalist parts of Northern Ireland to mark the Catholic Feast of the Assumption.
To others, they are lit to commemorate the introduction of internment without trial of republican suspects, which was introduced by the government in 1971.
Also in Derry on Thursday night, another separately-organised 'Festival of Fire' took place a short distance away.
It involved a colourful pageant and fireworks display, around Free Derry Corner and on the green below the city walls.