DUP man's son injured in 'sectarian' schoolboy attack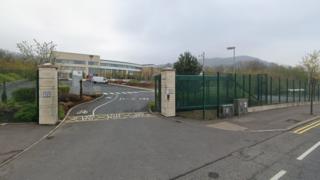 An attack on a schoolboy by youths in north Belfast, which was filmed and posted online, is being investigated by police as a sectarian hate crime.
The Democratic Unionist Party (DUP) has confirmed that the victim is a son of its Belfast councillor Frank McCoubrey.
The Belfast Boys' Model School pupil was treated in hospital after the attack on the Crumlin Road on Thursday.
His school is now working with nearby Edmund Rice College to ensure pupils are safe travelling to and from school.
'Threatened'
A police statement said officers are investigating the assault and the circumstances of the video which appeared online on Thursday.
The footage showed a number of schoolboys running down the Crumlin Road, near a sectarian interface, in the afternoon.
DUP councillor Brian Kingston said Mr McCoubrey's son was assaulted close to Ardoyne shops.
He added that other young pupils "had to flee from the scene having been threatened, running through cars on the Crumlin Road".
"We would appeal for information to be brought forward to the police to help them identify the person or persons responsible for this attack on Protestant school boys, purely because of their perceived religion," Mr Kingston said.
'Cross-community work'
Mary Montgomery, principal of the Boys' Model School and Paul Berne, acting principal of Edmund Rice College said they were "extremely shocked and disappointed".
Ms Montgomery said they had both been in contact with the boy's family to express their concern for his welfare.
She added that he was expected to make a full recovery.
The head teacher told BBC News NI it was not something she had experienced before during her time in charge of the Boys' Model.
She said her school had been involved in cross-community work with Edmund Rice College before and both schools will now be working together with a range of organisations to ensure safety.
In a statement, Edmund Rice College said: "The work of both schools will remain focused on building positive relationships through the many cross-community projects in which both schools are currently involved."
The DUP said it was seeking urgent meetings with a number of agencies in a bid to prevent similar incidents in the future.
Mr Kingston said they had contacted Translink to ask why, at the time of the attack, the Boys' Model pupils were "walking home when they should have been transported by bus".
A Translink statement said the company was "aware of an incident that took place yesterday in the Ardoyne shops area of north Belfast involving school pupils".
"The safety and welfare of our passengers is our top priority and we strongly condemn all acts of anti-social behaviour," the firm added.
It said it was liaising with local schools and the PSNI to investigate the circumstances.