Strabane mortar bomb: Mother says children could have been killed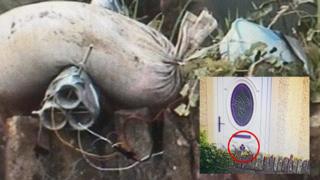 A County Tyrone mother has said her children could have been killed by a mortar bomb discovered metres from their home in Strabane.
It was found on a wall near houses in Church View on Saturday morning.
Police described the bomb as "a deadly device" and have blamed the dissident republican group the New IRA.
Aileen Mullan said her teenage daughter has not returned home since it was found and her son will not play outside the front of the house.
Photos released by police show the bomb metres away from the front door of a house.
Police said the New IRA intended to fire the mortar bomb into Strabane police station from Church View, which overlooks it.
The dissident group was responsible for the murder of journalist Lyra McKee in April.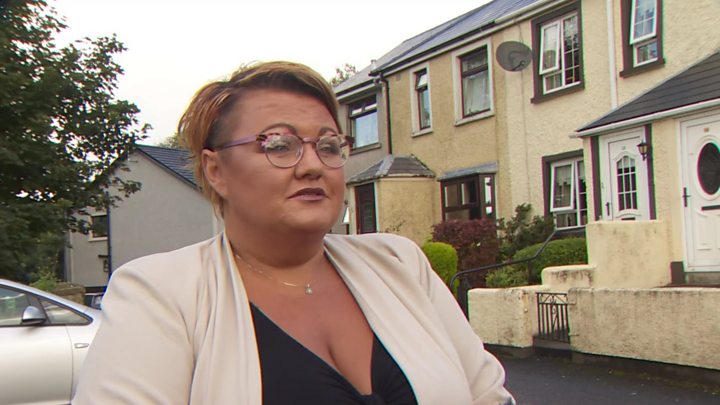 In June it said it was behind a bomb under a police officer's car at a Belfast golf club.
Ms Mullan said: "I thought what could have happened - it was right under my daughter's bedroom window.
"My daughter is 14 and my son is seven, my son could have easily walked out the front door and lifted it, quite easily went out and lifted it and he would have been gone."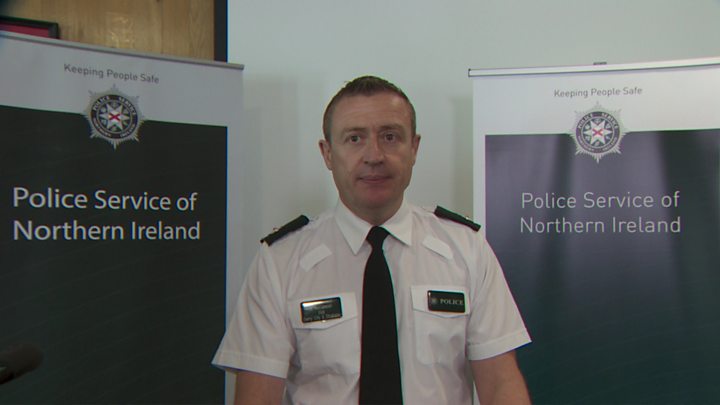 She said when her son heard there was a bomb he "was screaming the house down."
He told his mum he had never "seen a real bomb before."
Ms Mullan said: "I thought he would never have to. He won't go around the front of the house in case there is a bomb."
She said her teenage daughter has stayed at a friend's house since Saturday.
"That's not what I want for my children; my 14-year-old won't come home. She is terrified," she said.
Ms Mullan said whoever was responsible should "come and tell me why they put my children's lives in danger".
Police district commander Supt Gordon McCalmont said the attack was "reckless in the extreme", putting officers' lives at risk, as well as young families and elderly residents who live nearby.
A 33-year-old arrested on Sunday under terrorism legislation has been released on Monday evening, following questioning.
Police said the incident remains under investigation.