Creggan bomb: Police 'struck lucky' finding device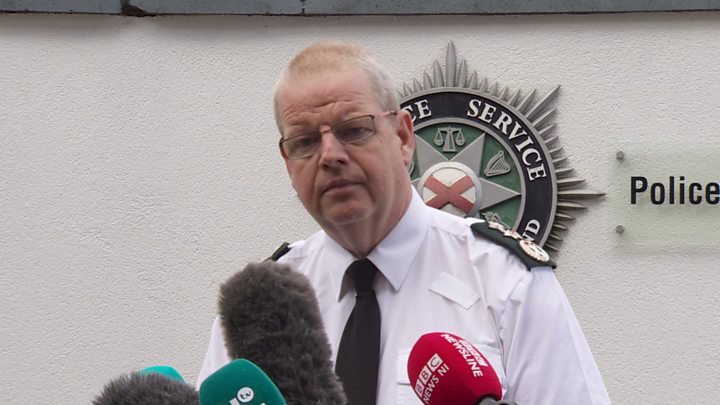 Police "struck lucky" when they found a bomb in Londonderry on Monday night, the chief constable has said.
Officers believe the New IRA planted the device, which was designed to murder police, in Creggan.
Mr Byrne added he was concerned dissident republicans were using a "range of tactics" and that their activity had increased.
He reiterated a call for the recruitment of more police officers. He wants to recruit an extra 800.
The bomb in Creggan followed the discovery of a mortar bomb near a police station in Strabane, County Tyrone, at the weekend.
Mr Byrne said he was concerned by the engineering of the different devices, as well as the range of tactics "being deployed by terrorists in different parts of Northern Ireland".
"It is a worrying departure in terms of the determination, the tempo and the motivation of people to clearly kill or seriously injure one of our officers," he added.
'Changing types of engineering'
Mr Byrne said he had dealt with more potential threats since he took up the role in July than his predecessor had faced during the previous 12 months.
"What we are seeing is changing types of engineering and capability," he told reporters in Derry on Wednesday afternoon.
Bomb-making expertise within dissident groups could be coming from older members with past involvement in terrorism, said Mr Byrne.
But he added that younger members could also be using the internet to learn how to make explosive devices.
'Need for more officers'
Mr Byrne said the PSNI needed another 800 officers to take the total size of the force to 7,500 - the level envisaged by the Patten Report in 1999 which led to the creation of the PSNI.
"I am worried that the valiant efforts of officers cannot continue at this rate without support from the government to increase the number of people that I can deploy to communities to fight terrorism," he said.
"Communities are our biggest weapon in turning round this problem, but to encourage and enable them we need to increase our neighbourhood policing teams right across Northern Ireland."
The most recent attempt to murder police was foiled in Derry on Monday when a bomb containing commercial explosives was found following a major security search in Creggan.
Days earlier a mortar bomb was found near a police station in Strabane.
Police said the New IRA planned to fire the bomb into Strabane police station from Church View, which overlooks the station.