Grand Opera House staff may strike over job fears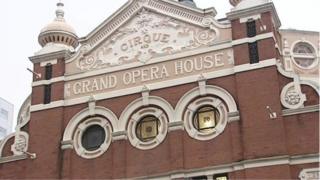 The union representing staff at the Grand Opera House have said they could take industrial action during this year's Christmas pantomime.
Almost 120 jobs are at risk of redundancy at the Belfast venue.
The theatre is set to undergo a major restoration programme and management have said there is a risk that not all employees will be paid while it is closed.
The restoration programme is due to start next January and last 10 months.
The Grand Opera House Trust has just completed a three-month consultation period with employees and plans one-to-one meetings with affected staff.
It has identified 119 roles at risk of redundancy, but said it had offered extended unpaid leave or voluntary redundancy in order to avoid compulsory redundancies.
The theatre told the Belfast Telegraph it would retain about 40 jobs during the closure period for operational reasons.
The BBC understands that staff who take voluntary redundancy will be offered 30% above the statutory level, while those who take unpaid leave for ten months will be offered £500.
Angela Moffatt, from BECTU (Broadcasting, Entertainment, Communications and Theatre Union), the union which represents the staff, said the theatre should be renamed the "half-a-Grand Opera House when they re-open because that seems to be the value they put on keeping staff".
She told BBC News NI's Evening Extra programme there was a deep sense of frustration and anger among staff, particularly from those "with long service who had seen the opera house through bombings and kept the place going".
The BBC has obtained a copy of a letter written to staff by Ian Wilson, the chief executive of the Grand Opera House.
'A bit mystified'
He said his "focus remains on the welfare of colleagues during this difficult time".
Mr Wilson added that a second round of individual consultation meetings will begin in the coming days.
BECTU said it had been mooted that the Grand Opera House could move to an alternative venue while the theatre was renovated but those plans have come to nothing.
"We are a bit mystified that during the forward planning for the closure they couldn't look at a temporary arrangement," Ms Moffatt said.
The Grand Opera House is about to enter its busiest period as the theatre prepares for the annual Christmas pantomime.
It is set to be big year for the venue as pantomime dame May McFettridge celebrates her 30th year leading the show.
"In the run up to the busier periods at Christmas, we could ask staff about industrial action," Ms Moffatt added.
'Encouraged by the response'
"But our preferred method would be to sit down and have constructive discussions with management to show that they value staff."
In a statement, a spokesperson for the Grand Opera House said: "We believe that we have reached a fair and balanced set of options while also recognising the current financial constraints of the trust, coupled with its charitable status obligations.
"We are encouraged by the response from many colleagues to our proposals so far and look forward to concluding the next phase of individual consultations so we can bring much-needed clarity to all concerned.
"We will continue to offer support services to our staff both during and after this time."