Newtownards: Man escapes injury after shots fired at house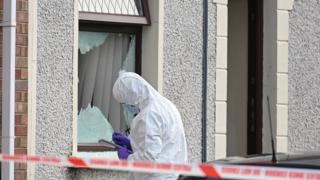 A man has escaped injury after a number of shots were fired at a house in Newtownards.
The shooting happened on Upper Greenwell Street shortly after midnight.
A window was damaged, and local MP Jim Shannon said it was not the first time the property had been targeted.
One man was inside at the time of the attack. Upper Greenwell Street remains closed between Inisharoan Court and Stanwell Road.
'It's crazy'
A woman who lives close to the house said she heard the shots, but did not realise what had happened.
"I was in my house with my partner, we thought it was a sports car just driving by - and we took no notice of it," she said.
"It's so, so scary being so close to home and the amount of kids that live round this area too.
"It's crazy."