Kevin Lunney: Quinn Industrial Holdings director abducted and beaten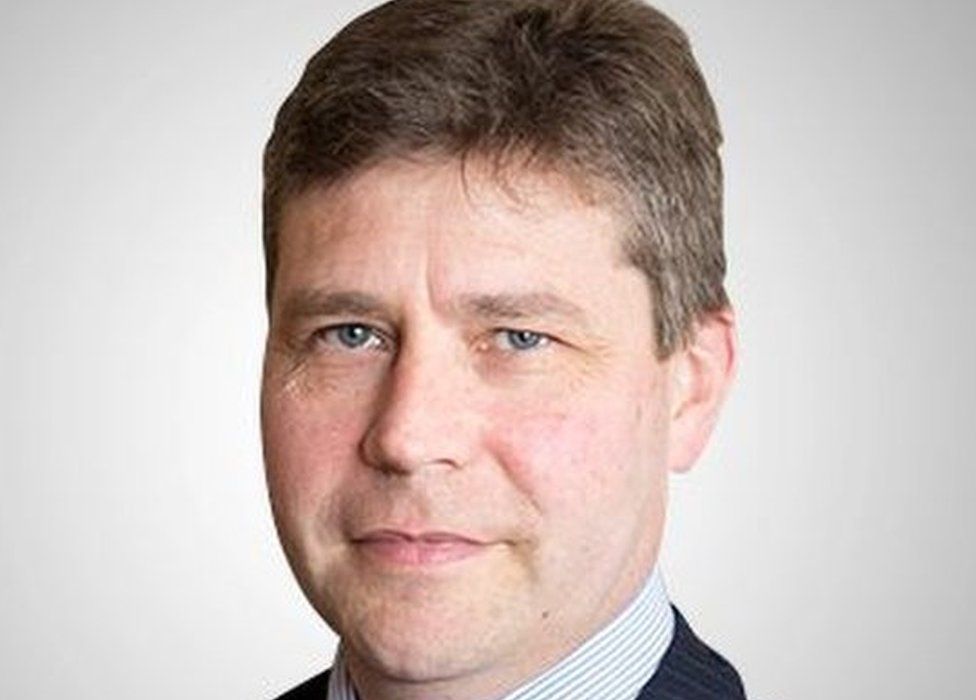 A prominent businessman has been abducted in County Fermanagh before being beaten and left at the side of a road in the Republic of Ireland.
Kevin Lunney, 50, a director of Quinn Industrial Holdings, was driving from work to his home in Kinawley when he was attacked at 18:40 BST on Tuesday.
He was found 22 miles (35km) away beside a road in County Cavan at about 21:00 and was taken to hospital.
Detectives on both sides of the Irish border are investigating the attack.
PSNI Supt Clive Beatty said: "His injuries are severe and savage. Although not life threatening, they will definitely be life changing.
"Four masked men appeared, smashed the windows of Mr Lunney's vehicle, forcibly removed him from the vehicle and bundled him into the boot of a black Audi saloon and drove him away from his home."
Mr Lunney was badly beaten, suffering a broken leg and "other very severe but non-life-threatening injuries", said Quinn Industrial Holdings.
His car and another vehicle were found on fire near the Lunney family's home.
Analysis: Julian Fowler, BBC News NI south-west reporter
Kevin Lunney was a close associate of the County Fermanagh businessman Sean Quinn and worked with him in his attempts to regain control of the Quinn Group business empire that collapsed in 2012 after Mr Quinn made a disastrous investment in Anglo Irish Bank.
There was a series of attacks in 2014 on property belonging to the new owners, including a fuel tanker that was driven into the headquarters building and set on fire.
After a buyout by local businessmen, Mr Lunney and other former colleagues were brought back into the manufacturing business and Mr Quinn was employed as a consultant.
But Mr Quinn left amid accusations he had been "stabbed in the back" and since then there has been a new wave of attacks, threats and intimidation.
In spite of Mr Quinn condemning the attacks, they have continued and the company has warned that if they don't stop someone will be seriously injured or even killed.
Mr Lunney's abduction and beating has proved those fears are justified.
Adrian Barden, the chairman of Quinn Industrial Holdings, said the "brutal" incident was the latest in a series of attacks targeting senior staff in the company.
Posters marked "wanted" and branding Mr Lunney and other Quinn Industrial Holdings directors as "traitors" appeared last year in Derrylin, County Fermanagh, where the company is based.
In February, Mr Lunney's nose was broken in an alleged attack at a service station in County Cavan.
"Kevin Lunney's abduction and assault is an outrageous attack on a hard-working father of six children but also on his 830 colleagues at Quinn Industrial Holdings and the wider community in the Cavan-Fermanagh region," added Mr Barden.
"For several hours last evening Kevin's wife, family and very many friends were left to contemplate the worst."
Mr Barden called on police forces on both sides of the border to "act quickly and decisively to prevent an inevitable loss of life" by "bringing those responsible to justice".
The Police Service of Northern Ireland (PSNI) said it wanted information about what it described as a "horrific attack".
It has asked anyone who saw a black Audi car being driven in Derrylin or Swanlinbar in County Cavan to contact detectives.
Mr Lunney joined the Quinn business in 1995, working in its then newly-established insurance division.
He later became responsible for other parts of the business, including its property portfolio.
The companies comprising Quinn Industrial Holdings were formerly owned by Sean Quinn, who was once Ireland's richest man.
His business empire included insurance, property development and the manufacture and supply of building products, glass and plastics.
When it collapsed, businessmen backed by three investment funds bought the manufacturing companies in December 2014 - the firms are run by former close associates of Mr Quinn.
After he was discharged from bankruptcy, Mr Quinn was employed as a consultant at his former company but he left the role in 2016 amid tension between him and the management team.
It was reported at the time that he left by mutual agreement with the owners.
Mr Quinn later said he had been forced out and that his family had been "stabbed in the back" by their former company.
His son Sean Quinn Jr said on Wednesday that his family was horrified by the attack on Mr Lunney.
"The people that are carrying out these despicable acts are not doing so for our benefit... and we are totally against this type of activity," he added.
In March, a court heard that other people who are unhappy Mr Quinn is no longer in charge of the firms he established were behind a campaign targeting Quinn Industrial Holdings executives.
The Democratic Unionist Party (DUP) leader Arlene Foster, a Northern Ireland Assembly member for the area in which Mr Lunney lives and works, said the incident was "totally abhorrent".
Totally abhorrent news coming from Fermanagh this morning. Nobody should have to live in fear of attack or indeed abduction as a result of their job. I hope those responsible face the courts as a result of their actions. Thinking of the family who went through last nights ordeal https://t.co/yIyPIhhWXd

— Arlene Foster (@DUPleader) September 18, 2019
Sinn Féin's Michelle Gildernew, the MP for the area, said the attack had caused "widespread disgust" in County Fermanagh.
"This is not just a horrific assault on Kevin and his family, but on jobs and stability in Fermanagh," she added.