Londonderry: Man shot in legs went in search of help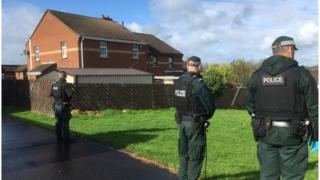 Police have condemned a "vicious and brutal" paramilitary-style gun attack on a man in Londonderry.
The victim, who was in his 30s, was found injured in Leafair Gardens, in the Galliagh estate, at about 20:00 BST on Wednesday.
The PSNI revealed he was shot three times and has life-changing injuries.
A councillor said the man, who was shot in both legs, fled from the scene to get help before collapsing.
PSNI Chief Inspector Bob Blemmings said the shooting had all "the hallmarks of a paramilitary attack".
"This was a vicious and brutal shooting in the early evening when families were going about their business," he added.
"The fact that these gunmen thought it was acceptable to shoot this man in a built-up area where children and teenagers could be passing by shows the contempt they have for people in their community."
SDLP councillor Brian Tierney said the victim, who is now being treated at Belfast's Royal Victoria Hospital, was shot in Brookdale Park and made his way to Leafair Gardens.
He said the man ran "through fear, adrenaline and nerve, and possibly shock" to get help before collapsing.
"I can only imagine how terrified this person must have been to get up and have to run while his legs were so badly injured," Mr Tierney told BBC Radio Foyle.
He added: "People who carried this out do not have the support or backing of this community, of any community in this city, or across the north."
SDLP leader Colum Eastwood described the attack as barbaric.
He tweeted that those responsible should "get off our backs".
Chair of the Derry and Strabane Policing and Community Safety Partnership Sandra Duffy condemned the shooting. She said the local community was "horrified and angry".
She added: "The brutal attack has no place in a city which is trying to move forward.
"It is clear that the criminal gangs responsible for this type of brutal assault have absolutely no concern for people living here and their only wish is to try to exert some sort of coercive control over these areas".