Abortion law: SDLP MLA to attend Stormont recall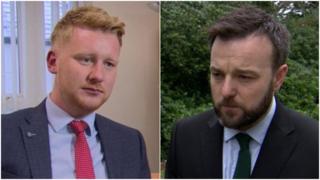 An SDLP MLA who opposes abortion will attend a sitting of the Northern Ireland Assembly on Monday in spite of his party leader describing the recall as "a total stunt".
Daniel McCrossan said he would be in the Stormont chamber. It is understood other SDLP MLAs could also attend.
SDLP leader Colum Eastwood criticised the recall but said his party had not decided whether it would attend.
The recall was proposed in an attempt to stop a reform of abortion law.
Laws on abortion and same-sex marriage in Northern Ireland will change unless devolved government is restored by Monday.
The recall will not affect the impending law changes as it would need a Northern Ireland Executive to be appointed too.
Stormont's power-sharing government collapsed two-and-a-half years ago amid a bitter row between the DUP and Sinn Féin and MPs in the House of Commons have since passed some key legislation for Northern Ireland.
The assembly sitting on Monday was triggered after a petition collected the necessary 30 signatures from MLAs.
The move was proposed by Northern Ireland peer Baroness O'Loan, who opposes any reform of abortion law, and was supported by the campaign group Both Lives Matter.
The petition was signed by 27 Democratic Unionist Party (DUP) MLAs, Ulster Unionist leader Robin Swann and his party colleagues Robbie Butler and Roy Beggs, as well as Traditional Unionist Voice (TUV) leader Jim Allister.
'Playing to the gallery'
Sinn Féin's vice-president Michelle O'Neill said her party would not attend the assembly sitting on Monday.
"We all know this is not real... this is not about resolving an issue," she added.
"It's purely about playing to the gallery - it's purely about stunt politics."
The DUP MLA Gordon Lyons said his party wanted to return to Stormont to "take decisions on issues that matter to the people of Northern Ireland".
He added: "Sinn Féin have been content to allow Westminster to impose this liberalised abortion regime.
"We believe it should be debated and decided upon here in Northern Ireland."
The Ulster Unionist Party (UUP) said its MLAs would attend and it has submitted its own petition to have the assembly recalled for a second day on Tuesday.
The UUP's Doug Beattie said his party's petition was for MLAs to express anger about the collapse of devolution more than 1,000 days ago.
He denied the UUP was engaging in "stunt politics" of its own.
Mr Eastwood said the SDLP would meet "over the next few days and decide" what it would do on Monday but added that his party would "not play to the DUP's tune".
He said: "The DUP are pretending this will stop abortion legislation... that is a lie.
"They know that they can't because there will not be an executive formed on Monday morning."
The SDLP has described itself as a "pro-life party" but its politicians are free to vote with their conscience on abortion laws.
The Alliance Party said it has yet to decide whether it would be at Stormont on Monday.