Northern Ireland abortion and same-sex marriage laws change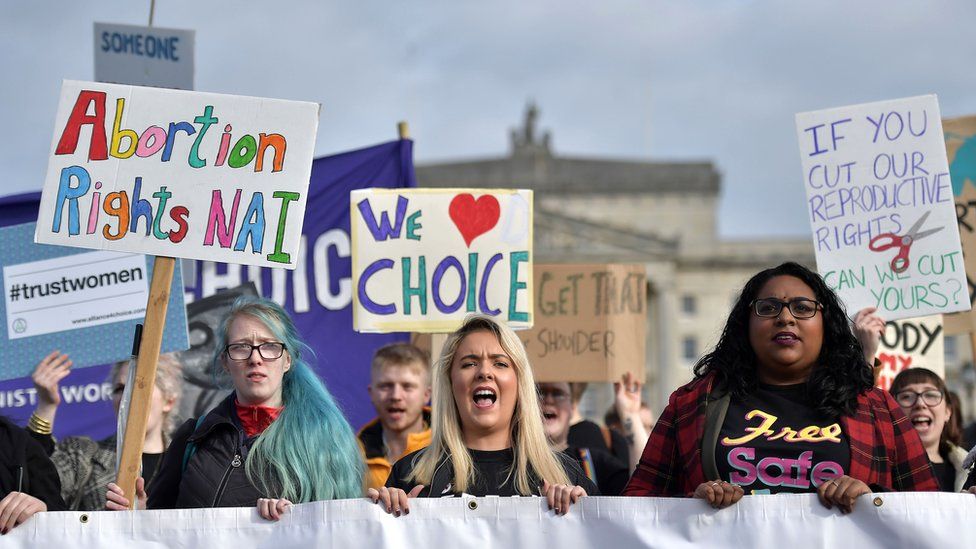 Abortion has been decriminalised and same-sex marriage is to be legalised in Northern Ireland.
The first same-sex weddings in Northern Ireland are set to take place in February 2020.
The government has until the end of March to come up with regulations for the provision of abortion services.
The legislation took effect after the 21 October deadline passed without a devolved government being re-formed.
The Democratic Unionist Party (DUP) - and some politicians from other unionist parties - triggered a recall of the Northern Ireland Assembly in an attempt to block the lifting of a near-ban on terminations.
The assembly at Stormont had not sat for more than 1,000 days after devolved government collapsed when power-sharing coalition partners the DUP and Sinn Féin split in a bitter row.
But the move failed because a new speaker could not be elected on a cross-community basis.
Sinn Féin, Alliance, the Green Party and People Before Profit did not attend the Stormont sitting, which Sinn Féin described as a "cynical political stunt".
Before now, abortion was only allowed in Northern Ireland if a woman's life was at risk or there was a danger of permanent and serious damage to her physical or mental health.
Section 58 and Section 59 of the Offences Against the Person Act 1861 - which made abortion a criminal offence - have been repealed.
The CEDAW report said abortion should be legalised where there is a threat to a pregnant woman's mental or physical health, without the conditionality of "long-term or permanent" effects.
It recommended terminations should be permitted in cases of rape or incest.
The committee also said abortions should be allowed where there is "severe fetal impairment", but that provision should not "perpetuate stereotypes" towards disabled people.
It added that social and financial support should be ensured for women who decided to carry such pregnancies to term.
A further series of recommendations included providing access to "high quality abortion and post-abortion care in all public health facilities", and making "age-appropriate, comprehensive and scientifically accurate education" on "sexual and reproductive health and rights" a compulsory part of the curriculum.
The government in London will decide on more detailed measures to fulfil the requirements of the legislation.
Northern Ireland Secretary Julian Smith is mandated to put in place regulations by 31 March 2020.
Same-sex marriages have been allowed in England, Scotland and Wales since 2014, but Stormont did not legalise them.
But the DUP blocked a change in the law by using a veto known as the Petition of Concern.
The new legislation says the Westminster government must bring in regulations to provide for same-sex marriage by 13 January 2020.
Because couples have to indicate their intention to marry 28 days before doing so - the first gay weddings are expected to be held in the week of Valentine's Day.
Northern Ireland's Catholic bishops said Monday was a tragic day for unborn children and a sad day for local democracy.
They say they are also concerned at the redefinition of marriage and appealed to the political parties to re-double their efforts to restore the power-sharing executive.
The government is to bring in a payment scheme for those people injured during Northern Ireland's Troubles through no fault of their own.
"As the Northern Ireland Executive was not restored by 21 October 2019, the UK government will introduce a victims payments scheme by the end of May 2020," a government spokesperson said.
"We will consult widely on the details of a proposal in the coming weeks."