Historical Institutional Abuse Bill: No decision yet on timing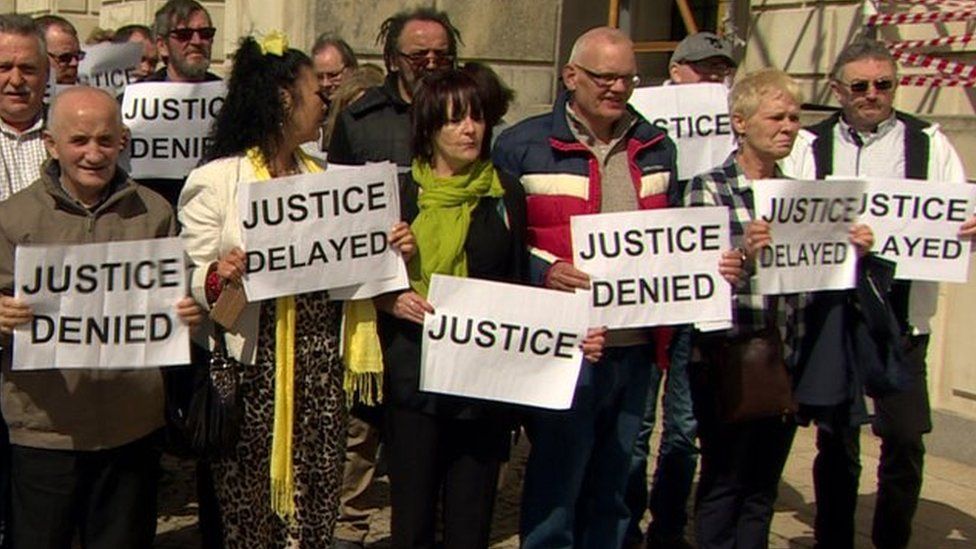 The government has not yet decided if a bill to compensate institutional abuse victims will pass before Parliament is dissolved, MPs have been told.
Earlier, Westminster sources told the BBC the bill was unlikely to be given accelerated passage.
Northern Ireland Office (NIO) minister Robin Walker told MPs the government is doing "all it can" to progress it.
It has passed its second reading in the Lords, but Parliament will be dissolved on Wednesday for the general election.
Victims who were abused as children in Northern Ireland residential homes have lobbied for compensation since the Historical Institutional Abuse Inquiry (HIA) ended in 2017.
Campaign group Survivors and Victims of Institutional Abuse (Savia) has written to Prime Minister Boris Johnson to "beg that you ensure" the legislation is passed before Parliament is dissolved.
The letter said Mr Johnson had made a commitment to introduce the legislation during the recent Queen's Speech.
"You have a choice; the ramifications of which won't be felt by you but by all of us who have carried the heavy burden of abuse throughout our lifetime," the letter reads, before urging Mr Johnson to "please do the right thing".
During Northern Ireland questions in the House of Commons on Wednesday, the government was pressed by a number of MPs about the future of the bill.
DUP deputy leader Nigel Dodds asked the government for a definitive commitment that the bill would not be lost, urging Number 10 to "get on with it".
Labour's Shadow Secretary of State for Northern Ireland Tony Lloyd said the government should consult with the leader of the Commons and the business office to push for the legislation to be fast-tracked.
He said it was "intolerable" that victims of abuse were now facing the prospect of being let down again.
Mr Walker said no decision had yet been made about the bill, but that the government would "do all it can" to see its passage before dissolution.
He said there was agreement across the house on the matter, and that he would have discussions with government officials about the urgency of the matter.
Sinn Féin's victims and legacy spokesperson Linda Dillon said victims needed reassurance about what will happen now an election has been called.
"Clarification is needed urgently on this to ensure victims receive the redress they are long entitled to," she said.
Stephen Farry, Alliance Party deputy leader, tweeted that victims had been "let down on too many occasions by political events creating new artificial deadlines or closing off routes to progress".
"A few hours across two days in Parliament could get this sorted," he added.
During prime minister's questions, Boris Johnson stopped short of making a commitment to pass the legislation before Parliament is dissolved, instead telling MPs that the "most powerful way" to address the issue would be to get Stormont up and running again.
On Wednesday, peers in the House of Lords agreed to back an amendment to try to force the government's hand to fast-track the bill before parliament dissolves for the December election.
However, it is not yet clear if it will pass the Commons.
The HIA inquiry, chaired by the late Sir Anthony Hart, investigated historical allegations of child abuse in residential institutions run by religious, charitable and state organisations.
It examined 22 institutions and its remit covered a 73-year period ranging from 1995 back to the foundation of Northern Ireland.
The inquiry's final report in January 2017 recommended that all survivors of institutional abuse receive tax-free, lump sum payments ranging from £7,500 to £100,000.
However, it was published just a few days after the collapse of Northern Ireland's devolved government, and no ministers were in post to set up the redress scheme.
Since then victims' groups have lobbied the Northern Ireland Office to pass the necessary legislation through Westminster and brought a judicial review challenging the lack of government action.
On Tuesday, Northern Ireland Secretary Julian Smith told MPs he wanted the bill to get through "in all scenarios" and asked other politicians to assist him in making representations that the measure should be given parliamentary time.
Former Northern Ireland Secretary Lord Hain said it would be "outrageous" if the HIA bill was not allowed to progress through Parliament before dissolution.
His intervention was welcomed by interim advocate for victims and survivors of historical institutional abuse, Brendan McAllister.
"This isn't a perfect bill but overall victims would rather have a bill than no bill," he told the BBC's Evening Extra programme.
"If Stormont was a ship they were supposed to sail to carry this into law, it turned out to be a dry dock, so they transferred to another ship called Westminster.
"It hit an iceberg called Brexit and now this particular Parliament is sinking, so these people needed this act like a lifeboat. Without it, they are left floundering."