Kevin Lunney attack: Police must 'step up to responsibility'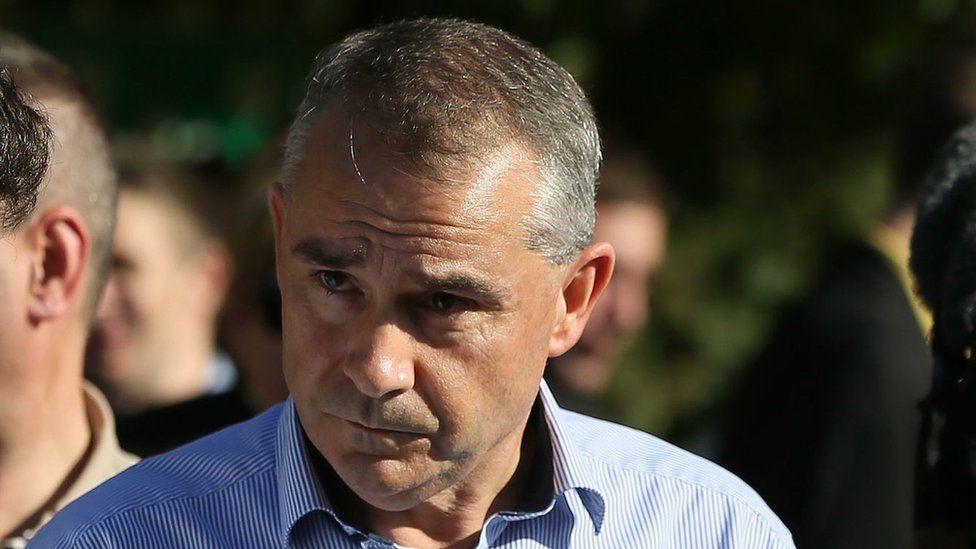 The chief executive of Quinn Industrial Holdings has said directors are relying on police "stepping up to their responsibility" after the latest "chilling threat".
Liam McCaffrey said they have taken extra security measures with the PSNI and gardaí (Irish police).
New threats were issued against the firm's directors on Monday.
The latest statement was published in the Irish News on Wednesday.
"This is your last warning to resign your positions in QIH (Quinn Industrial Holdings)," it read.
"Obviously yous (sic) have not learned the lesson after what happened to Kevin... ."
It added the Quinn directors were "given a mandate to hold the company in safe hands for the Quinn family until a position was in place to buy it back".
Mr McCaffrey told BBC News NI that "it's very clear the perpetrators of the attack on Kevin and the paymaster who's orchestrating it need to be brought to justice".
He said an "intimidation campaign" around the Quinn businesses had been going on for more than eight years but there was a "clear sense of horror and revulsion" over the attack on Mr Lunney.
"This is just beyond the pale on so many levels and I understand that is translating to a lot of information being fed to the gardaí and PSNI as they conduct their investigation.
"So what has to happen is they need to bring that investigation to a conclusion and we need to see results from it.
"If we don't see results from it, then we need to look at how we police this area - I think that's a critical thing now we are eight-and-a-half years into this."
Mr McCaffrey said he and other directors had "changed certain things that we do in our lives" following the attack on Mr Lunney but that "you've got to maintain a balance between what you do to live a normal life and what you do to stay safe".
He said they wanted to balance their responsibilities to the business and "the responsibility not to be intimidated" along with the "responsibility to our wives and families".
Quinn Industrial Holdings was founded by Seán Quinn, once Ireland's richest man, but the company later collapsed and was bought over by businessmen backed by three investment funds.
After he was discharged from bankruptcy, Mr Quinn was employed as a consultant at his former company but he left the role in 2016 amid tension between him and the management team.
Since then, there have been attacks and intimidation against the management of the new company, something Mr Quinn has publicly condemned on a number of occasions.
The letter to the Irish News also threatened Cavan County Council staff or other contractors who remove posters erected as part of the campaign of intimidation against the directors.
It warned they would be targeted if they removed the posters.