Essex lorry deaths: Extradition proceedings launched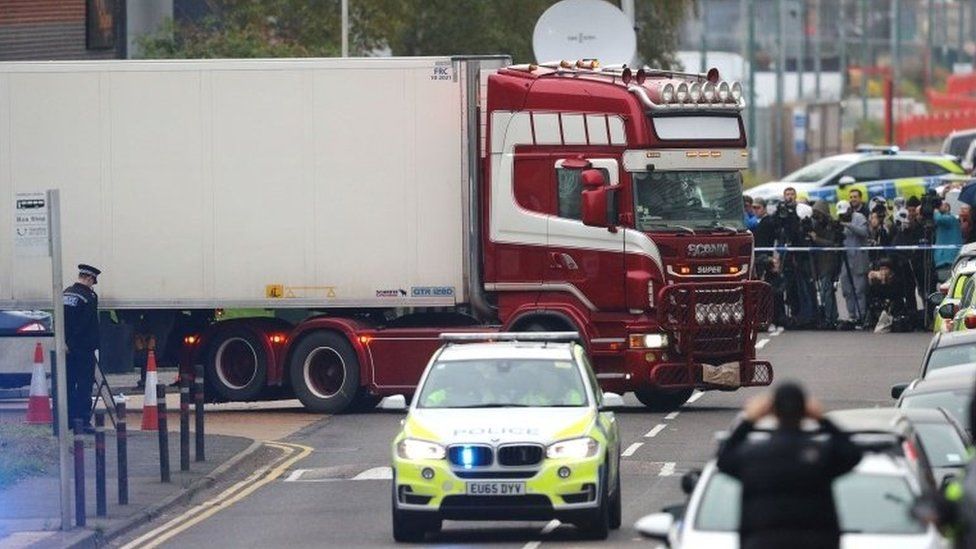 Essex Police has started extradition proceedings to bring a man from Ireland to the UK to face charges of manslaughter over the deaths of 39 people in the back of a lorry.
Eamonn Harrison, 22, from Northern Ireland, was arrested in Dublin on a European Arrest Warrant.
In Vietnam police have arrested two people over people smuggling.
Police in Belfast have also appealed to two brothers wanted in connection with the deaths to hand themselves in.
Ronan, 40, and Christopher Hughes, 34, are wanted on suspicion of manslaughter and people trafficking.
The BBC is not responsible for the content of external sites.
Skip twitter post by Essex Police
Allow Twitter content?
This article contains content provided by Twitter. We ask for your permission before anything is loaded, as they may be using cookies and other technologies. You may want to read Twitter's cookie policy, external and privacy policy, external before accepting. To view this content choose 'accept and continue'.
The BBC is not responsible for the content of external sites.
End of twitter post by Essex Police
On Friday, police confirmed they had spoken to Ronan Hughes by phone, but added that they needed to speak to the brothers in person.
"Ronan and Christopher, hand yourselves in," said Det Ch Insp Daniel Stoten, who is leading the lorry deaths investigation for Essex Police.
"We need you both to come forward and assist this investigation."
"The sooner we can make this happen, the sooner we can progress with our investigation," he said.
"We are in direct contact with a number of families in Vietnam and the UK, and we believe we have identified families for some of the victims whose journey ended in tragedy on our shores," Assistant Chief Constable Tim Smith of Essex Police said.
"The confirmatory evidence needed to formally present cases to HM Senior Coroner for her consideration has not yet been obtained."
Mr Stoten, who is leading the lorry deaths investigation for Essex Police, said the Hughes brothers have links to Northern Ireland and the Republic of Ireland.
They are also connected to the road haulage and shipping industries.
Essex Police have said the brothers are from County Armagh but it is understood they are originally from County Monaghan in the Republic of Ireland.
They have at least one business address in Northern Ireland.
The PSNI stopped and seized a lorry on Thursday, believed to be connected to the Hughes brothers.
No further arrests were made.
The driver of the lorry in which the bodies were found, Maurice Robinson, appeared in court in Chelmsford on Monday.
The 25-year-old, of Laurel Drive, Craigavon, is charged with a string of offences, including 39 counts of manslaughter.
He was remanded in custody and is due to appear again at the Old Bailey in London later this month.
All eight women and 31 men are thought to have been adults except one "young adult" woman who, police previously said may have been a teenager.
Police initially believed the victims to be Chinese nationals but their efforts to identify them are now focusing on the Vietnamese community.
VietHome, a popular Vietnamese community forum in the UK, said it had passed on the pictures of almost 20 people who have been reported missing to detectives.
On Friday, the police in Vietnam's Ha Tinh province said that they have charged two unnamed people with "organising or brokering illegal immigration".
They said the arrests were made after 10 local families reported their children - who were on their way to the UK - missing.
Many of the families who have reported missing relatives know the names of the brokers who organised their journeys, says the BBC's Jonathan Head in Hanoi.
Some are said to be local people familiar to communities which have a tradition of sending people overseas to work.
British law enforcement officers have been working with Vietnamese authorities in an attempt to suppress human trafficking over the past number of years, adds our correspondent.
Sources in Hanoi say there has been some progress, but people smuggling is still hugely lucrative and thriving in Vietnam.
The Vietnamese embassy in London has set up a contact line for people to get in touch.
What about the lorry and the trailer?
GPS data shows the refrigerated container trailer in which the bodies were found crossed back and forth between the UK and continental Europe in the days before it was found.
It was leased from the company Global Trailer Rentals on 15 October. The company said it was "entirely unaware that the trailer was to be used in the manner in which it appears to have been".
It is not the lorry police seized on 31 October in Northern Ireland.
Sources say the GPS data shows it left Monaghan in the Republic of Ireland on 15 October before crossing over to Northern Ireland and then returning south to Dublin
From Dublin, it crossed over to Holyhead in Wales overnight on 16 October
That evening, it travelled to continental Europe from Dover to Calais in France
Between 17 and 22 October, it moved between various cities in Belgium and France, including Dunkirk, Bruges and Lille
On 22 October, it made its final crossing from Zeebrugge to Purfleet
Essex Police said the tractor unit (the front part of the lorry) had entered the UK via Holyhead - an Irish Sea port in Wales - on 20 October, having travelled over from Dublin.
Police believe the tractor unit collected the trailer in Purfleet on the River Thames and left the port shortly after 01:05 on 23 October. Police were called to the industrial park where the bodies were discovered about half an hour later.
Temperatures in refrigerated units can be as low as -25C (-13F). The lorry now is at a secure site in Essex.
Early reports had suggested the lorry may have arrived from Bulgaria but its government has since clarified that while the tractor unit was registered there in 2017 it had not entered the country since.
This article was based on public announcements and appeals made by Essex Police at the relevant time. Christopher Hughes denies any involvement in these offences and Essex Police has since confirmed no further action will be taken against him. Since the publication of this article, his older brother, Ronan Hughes, 41, and Maurice Robinson, 26, both of County Armagh, have pleaded guilty to manslaughter. On 21 December 2020, the Crown Court, sitting at the Old Bailey, found Eamonn Harrison, 24 of Newry, County Down, and Gheorghe Nica, 43 of Basildon, Essex, guilty of manslaughter and Christopher Kennedy, 24, of County Armagh, and Valentin Calota 38, of Birmingham, guilty of conspiring to assist illegal immigration. Alexandru-Ovidiu Hanga, 28, of Tilbury, Essex, and Gazmir Nuzi, 43, of Tottenham, north London, admitted assisting unlawful immigration. All defendants were sentenced in January 2021.