Paper Review: Health crisis ramps up, housing row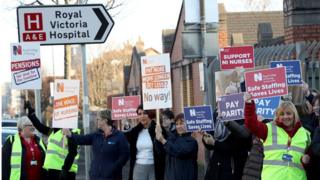 The ongoing health crisis continues to dominate headlines and front pages, with the papers reporting that unions have rejected a new pay offer.
Healthcare workers will continue striking over pay and staffing, affecting services at some Northern Ireland hospitals.
The health service is "on course for meltdown", says the Belfast Telegraph.
The paper reports that the extra £28m was offered as a "last ditch bid to ward off strike action".
But the unions say the £79m package does not bring Northern Ireland into line with the rest of the UK.
Anne Speed from Unison describes the offer as "insufficient".
"Health crisis ramps up" writes the News Letter, describing the series of meetings on Thursday as "hectic".
The papers warns that it will escalate in the lead up to Christmas.
Kevin McAdam from Unite says the improved offer simply did not go far enough.
The Irish News the paper continues to lead with a row over housing in north Belfast which has rumbled on for days.
Three houses have been targeted in sectarian attacks in a social development in Ballysillan.
The paper says a DUP councillor is facing questions over social media comments he has made.
In welcoming new housing in the Glenbryn area last month, Dale Pankhurst said on Facebook: "We have made it very clear that locals should be served first.
"Our areas have become dumping grounds for all sorts."
The paper reports that Mr Pankhurst said he has received anonymous threats and calls.
In a statement on Thursday, Mr Pankhurst said he condemned "all forms of intimidation and attacks and therefore condemns those responsible for this incident".
"People should be free to live where ever they wish," continued the statement.
On the front page of the Daily Mirror a County Down mother is furious.
The Bangor woman, who has not been named, claims that the government will write off more than £11,000 owed by her ex-husband for child maintenance.
The woman received a letter to say "much of this debt cant be recovered and will be permanently written off".
She says she is shocked: "I have struggled financially for years to look after my children because their dad did not pay for anything.
"This is not money that's owed to me. This is money owed to my children."
A spokesman for the Department for Communities said they could not discuss the specific details of any case.
They added that the woman had been "advised of the action she need to take if she wishes the department to pursue the debt owed to her".
Delving into the papers, in The Irish News a County Tyrone singer is delighted to return to the stage after a freak accident in June.
Singer Malachi Cush was left badly injured after being hit by a runaway car in Dungannon.
The country singer is to have an operation on his right leg in January and has been told it could be next Christmas before he is able to regain full use of his limb.
However despite this, he will be getting back on stage in the next few weeks to perform in festive shows.
"Music can support me though this. It can lift you and stir the emotions. It's definitely been a good distraction," he says.
Emotional trek
The News Letter has an interview with a Moira man who climbed to base camp of Earth's highest mountain in memory of his mother.
Daryl Hunter, 35, says he burst into tears the minute he reached base camp.
Mr Hunter embarked on the two-week trek through the Himalayas to raise money for a cancer charity.
His mother, Alison Pink, passed away in September 2017.
Daryl says his mum would have been very proud of their accomplishment.
"My mum's favourite saying was: 'I may have cancer, but cancer doesn't have me'.
"She lived life to the full and was such a positive person. Without her positivity and the positive attitude she brought me up with I wouldn't have got there."
And finally a beloved Belfast born broadcaster is surprised with a 60th birthday in Vienna, in the Belfast Telegraph.
TV presenter Eamonn Holmes was whisked off to the Austrian capital by wife Ruth Langsford.
Holmes was inundated by happy birthday messages on social media.
"In a world of so much hate and anger, thank you for your decency," he said, thanking fans for their messages.