Nurses' strike NI: Strike action by thousands of nurses ends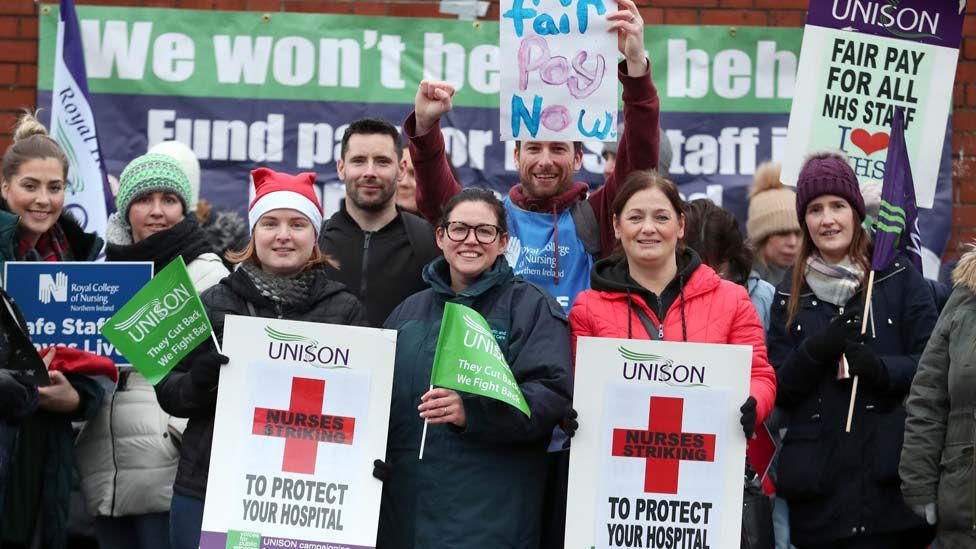 Strike action by 15,000 nurses in Northern Ireland over pay and staffing has ended.
In total, more than 20,000 people who work in the health service in Northern Ireland were involved in Wednesday's action.
Nine thousand Royal College of Nursing nurses ended their 12-hour strike at 20:00 GMT on Wednesday.
Nurses in the Unison union remained on strike until midnight, along with the majority of NIPSA members.
Members of the Unite union are on strike until 06:00 on Thursday, while NIPSA ambulance workers are due to end their action at 07:00 GMT.
The Health and Social Care Board said 4,749 hospital appointments were cancelled on Wednesday.
Paul Cummings, deputy chief executive of the Health and Social Care Board, said two-hourly calls were being made to each of the health trusts to assess the situation.
Speaking on BBC Radio Ulster's Evening Extra, he said so far there had been "no reported issues of patient safety".
"Every aspect of health and social care has been affected," he said.
"Pressure is continuing to grow on our emergency departments, but so far our preparations [for the strike] have paid dividends."
Speaking at the Royal Victoria Hospital in Belfast, RCN member Nuala Murray told BBC News NI: "This was incredibly difficult. I've been nursing for 37 years.
"This is so unprecedented for us to have to strike but nurses are so fed up, they've just had enough.
"Their patients aren't safe and they need to do something."
'The poor country cousin'
Many appointments and treatments have been cancelled because of the strike, and a number of minor injury units are closed.
The Health and Social Care Board said all emergency departments would remain open as normal, but would be under significant pressure.
Sean Smyth, whose daughter died in June, joined the picket line at Belfast City Hospital.
"I'm here to show solidarity with the fantastic health workers we have," he said.
"The care and support Eimear got was equally matched by the support they showed me and my family and we'll never be able to thank them.
"Eimear was first treated in England. We have first hand experience of the nursing staff in St James's in Leeds.
"The nurses nurse in England. Here in Belfast we have seen the nurses nurse, clean, cook, do every task there is possible. And the work they do is unbelievable.
"I've witnessed what their colleagues get in England. The pay get and the conditions they work in, the staffing levels compared to ours. It is chalk and cheese, we are the poor country cousin to England, Scotland and Wales.
"Where Eimear died, it was something from the 1980s - a horrible grey room. It's a horrible environment, the facilities are poor.
"Our hospitals need major investment, our staff need major support from our politicians."
Mairead Meenan, a staff nurse at Altnagelvin Hospital in Londonderry, said the "fair pay" issue had brought her to the picket line.
"Everybody wants equal pay and equal rights," she said, adding that nurses in Northern Ireland felt "undervalued" compared to their counterparts doing the same jobs in Great Britain.
She called on politicians to "start talking" and sort the dispute out.
"You get paid loads and loads of money and you would not last 10 minutes in our job," said Ms Meenan.
One woman, whose appointment at Altnagelvin went ahead as scheduled on Wednesday morning, came out to support nurses and health workers on the picket line.
She has had two operations at the hospital since May.
"I was extremely well looked after and am very appreciative of all the care I've had," she told BBC News NI.
"I'm also totally disgusted with Stormont and its lack of getting on with sorting out Northern Ireland.
"This wouldn't have happened if they [politicians] had thought about it properly and fought for our good health service."
How bad is Northern Ireland's health crisis?
On so many measures, Northern Ireland lags behind the other UK nations when it comes to NHS performance.
Not only does it has the highest vacancy rates, it also has the worst record in terms of meeting waiting time targets for cancer, A&E and routine operations.
The best indication of this is the figures for the proportion of patients seen in four hours in A&E.
England has just seen its performance sink to a record low of just over 81%. In Northern Ireland it is currently below 66%.
Why? The suspension of a devolved government has certainly not helped - delaying everything from new policy to pay rises.
But modernisation of health care in Northern Ireland was already behind schedule before that happened.
Services are spread too thinly across too many sites, so there is a lot of catching up to do - and the more it is delayed the longer it will take.
Health workers say they want to be paid the same as their counterparts in England, Scotland and Wales.
Pay parity between Northern Ireland and the rest of the UK ended in 2014 when the Democratic Unionist Party's (DUP) Jim Wells was health minister.
He imposed a "degree of restraint" on pay for health care workers, due to financial challenges in the department.
Speaking earlier this month, Mr Wells said the decision had been "very difficult because the choice was very stark", explaining that another increase in pay at the time could have led to redundancies or services being closed.
The issue has not been looked at again because Northern Ireland has not had a devolved government since 2017.
Downing Street said the strike highlighted the importance of Northern Ireland's political parties working together to restore devolved government.
The "quickest and best" way to resolve the dispute was to get the Stormont executive up and running again, said the Prime Minister's spokesman.
He added that the Northern Ireland Department of Health had been working closely with trust chief executives, unions and staff to make sure that services were delivered safely during the strike.
Analysis: Services pushed to the limit
By Marie-Louise Connolly, BBC News NI Health Correspondent
These are unprecedented times. For the first time in UK history close to 20,000 health and social care works are on picket lines, including about 15,500 nurses.
With more than 300,000 people in Northern Ireland waiting for an appointment, today's strike is going to push all services over the limit.
As healthcare workers protest and wave flags calling for pay parity and safer staffing levels, what they are also shouting about is a desire to get devolved government back up and running.
While there is a skeleton staff today, and while many appointments have been cancelled, a shortage of staff has been an issue for many years.
2,800 unfilled nursing posts
The RCN argues the real value of nurses' pay here has fallen by 15% over the past eight years.
There are just under 2,800 unfilled nursing posts within the health service in Northern Ireland.
The RCN estimates that a similar level of unfilled posts exists within nursing homes.
The nursing vacancy rate in Northern Ireland is 13%, compared with about 11% in England and 6% in Scotland.
This means that for every eight nurses who should be working in Northern Ireland, one is missing.
If you are reading this page on the BBC News app, you will need to visit the mobile version of the BBC website to submit your question on this topic.
A spokesperson for Health and Social Care Board said major challenges were expected across all health and social care services on Wednesday.
It also advised that if patients or service users have not been contacted, they should attend their appointment/service as normal.
All emergency departments remain open.
"The priority will be on the treating emergency and life threatening conditions first," said the spokesperson.
"Patients with less urgent conditions may have to wait for lengthy periods."
Are you a patient who will be affected by the strike? Are you a nurse on strike? Share your experiences by emailing haveyoursay@bbc.co.uk.
Please include a contact number if you are willing to speak to a BBC journalist. You can also contact us in the following ways: