New Year Honours 2020: Snow Patrol's Gary Lightbody becomes OBE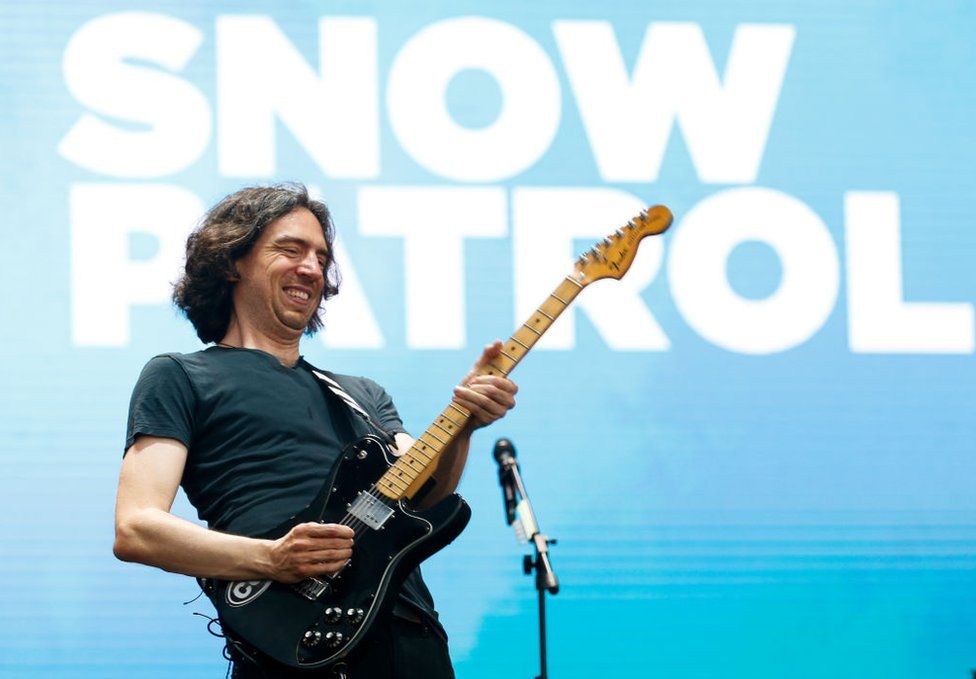 Snow Patrol frontman Gary Lightbody is among almost 100 people from Northern Ireland who feature on the Queen's New Year Honours list.
He becomes an OBE for services to music and charity.
The file - which included details of senior police officers and politicians - was uploaded to an official website on Friday evening and removed on Saturday.
The Cabinet Office told the BBC it was "looking into how this happened".
The PSNI said it was aware of "reports regarding the publication of addresses belonging to New Year's Honours recipients online" and was "working closely with the relevant Government Departments to determine what action, if any, needs to be taken".
Also recognised for services to music and charity are the Catholic clergymen who perform as the classical group The Priests - they each become an MBE.
Father David Delargy and brothers Fr Martin O'Hagan and Fr Eugene O'Hagan are priests from the Diocese of Down and Connor.
They have been singing together since the 1970s and released their debut album as The Priests in April 2008 after signing a record deal with a major label.
They have since sold several million records worldwide and have performed for the Royal Family, Pope Francis and the Irish president.
"Music can cut across all kinds of divides and difficulties and people can be united through song and harmony," Fr Eugene O'Hagan told BBC News NI.
"We have experienced that in the last 11 years."
The announcement of Lightbody's recognition comes just a few days after the death of his father Jack, who had dementia.
Lightbody founded the charitable organisation the Lightbody Foundation, which makes donations to charities in Northern Ireland.
It has helped groups promoting dementia care as well charities covering sectors including mental health, special educational needs and young people.
In a post on Instagram on Friday, the singer, from Bangor in County Down, said his father had "taught me and gave me so much".
Sports stars also feature in the Queen's Honours, with the former Northern Ireland captain Aaron Hughes becoming an MBE for services to football.
The 40-year-old, from Cookstown in County Tyrone, retired this year after winning 112 international caps.
The runner from Newtownabbey, County Antrim, was diagnosed with a mild form of cerebral palsy when he was aged two.
He has four Paralympic gold medals, four World Championship gold medals and two European Championship golds.
Speaking to BBC News NI, he said he was proud to be honoured.
"I run for the island of Ireland - I'm apolitical," he said.
"It doesn't matter who you are, what you are - if you support me I represent you whenever I go on the world stage and I've always stood by that."
Companion of Honour - Limited to 65 people. Recipients wear the initials CH after their name
Knight or Dame
CBE - Commander of the Order of the British Empire
OBE - Officer of the Order of the British Empire
MBE - Member of the Order of the British Empire
BEM - British Empire Medal
Wilma Erskine, the outgoing secretary manager of Royal Portrush Golf Club, also makes the list, becoming an OBE for services to tourism and golf.
It is not the first time she has made the Queen's Honours list - she was awarded the British Empire Medal in 2015.
Alastair Hamilton, the former chief executive of Invest Northern Ireland, becomes a CBE.
He received his honour for services to economic development in Northern Ireland.
She has led the business support network over the past 10 years, helping to grow its membership from 80 to more than 2,500.
Ms Kelly said the phone had not stopped ringing with congratulations messages.
"I feel very honoured and humbled by the messages," she said.
"In Women in Business, we have delivered a lot with a very small team. We are a small charity - lots and lots of hard work and lots and lots of passion have gone into making it the success that it is.
"We have all worked really hard to get the members we have and support them in their development and their careers."
Here is the full list of Northern Ireland recipients of New Year Honours:
Wilma Isobel Erskine-Heggarty BEM
Maureen Winifred Campbell
Tracy Helen Pringle Hamilton
William Michael Mawhinney
Stephen Patrick McBrearty
Martha Rosalind Elizabeth Bloomfield
James William Murray Fairbairn
Michael John Armand Gaillard
John Joseph Laurence McNally
Alison Sally Glenn Mullan
Susannah Virginia O'Neill
John (Jack) Alexander Reid
Norman Alexander Taylor TD