British Legion, Portrush: Veterans protest over respite centre closure plan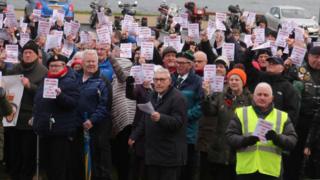 Military veterans have staged a protest outside a Royal British Legion facility in Portrush, County Antrim, which is under threat of closure.
The Poppy Break Centre provides respite for veterans from both sides of the border, who have conditions such as post-traumatic stress disorder (PTSD).
Last month, the charity confirmed it was considering plans to close the facility.
However, veterans claim that had left them feeling "abandoned".
'Feeling abandoned'
On Saturday, veterans and their families held a protest outside the centre, located at Bennet House in Portrush.
A spokesperson said the planned closure had caused shock within the veteran community across the island of Ireland.
"Thousands who have availed of its services are angry that their place of respite will disappear in early 2020," the spokesperson said.
"This is a bad decision that will leave veterans feeling abandoned.
"We call on the Royal British Legion to think again of the consequences of what it is doing and the impacts the decision will have on vulnerable veterans who served their community and now need help dealing with their experiences."
Ulster Unionist Councillor Darryl Wilson attended the protest and tweeted that a "clear message" should be sent that "Bennet house must remain open".
The British Legion has confirmed it has been considering proposals to close Bennet House but stressed that no decision had yet been taken.
Valuable contributions
The organisation's Director General, Charles Byrne, said: "We are putting forward proposals to ensure the charity can address the challenges ahead of us.
"However, to start more of this work we do need to stop doing something else, which has led us to put forward proposals on our four hotels and home maintenance service.
"We do not make these proposals lightly and we are well aware of the impact the proposals could have on our staff who have made hugely valuable contributions to the charity's work."
The charity has four break centres - the others are Alderson House in East Yorkshire, Byng House in Southport and Somerset Legion House in Weston-Super-Mare.